Student Support Desk
Faculty of Economics and Business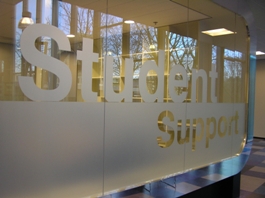 Do you have questions about study programmes, courses and exams, study abroad, personal circumstances, graduation, or anything else that concerns your study at the Faculty of Economics and Business? You can ask them at the Student Support Desk (SSD).
On the pages in the menu on the left, you find answers to frequently asked questions. You can also ask your own question here, which the Student Support Desk team will answer as soon as possible. If you can not find your answer within the frequently asked questions, please send an email to studentsupport.feb rug.nl.
The Student Support Desk is located in the Plaza of the Duisenberg Building. During the opening hours the Student Support Desk is also available via telephone (050 - 363 8900).
Reachability and opening hours
The Student Support Desk is opened on site according to the schedule below. Besides these opening hours the SSD is available via mail.
| Day | Opening hours |
| --- | --- |
| Monday | 13:00-17:00 |
| Tuesday | 13:00-17:00 |
| Wednesday | 13:00-17:00 |
| Thursday | 13:00-17:00 |
| Friday | 13:00-17:00 |
Authorization form
In case you want someone else to pick up official documents, you can authorize this person. Download the authorization form in order to do so.
Study advisors FEB
The study advisors offer supra curricular counselling. They play an important role in academic career counselling offered by our faculty, but you can certainly also contact them on your own initiative. Naturally all matters remain confidential.
Student Information and Administration
Do you have questions about your registration and deregistration, tuition fees, application and admission (for Dutch students) or do you want to apply for a new student card? Please contact the Student Information and Administration.
Frequently asked questions
Immigration Service Desk
Do you have questions about immigration issues, visa for incoming guests, residence permits, taxes for bursary students, health insurance, registration an City Hall, getting settled in Groningen? You can ask them at the Immigration Service Desk.
Discounted public transport for international students
The UG has started a collaboration with Student Mobility, who are offering a public transport card with discounts specifically for international students. The Student Mobility Card is a custom-made public transport card and UG students who choose to purchase one are entitled to the standard 15% off-peak discount for the NS (National train) as well as 40% off-peak discount in local buses (Qbuzz) and trains (Arriva) on top of that for the entire academic year 2022-2023. You can read more about this card and order yours here.
Not a FEB student, but taking courses at FEB?
Please, take a look at the webpage for information on course and exam enrolment.
| | |
| --- | --- |
| Last modified: | 19 September 2022 4.04 p.m. |