Student Support Desk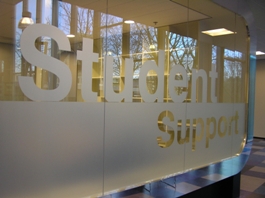 Do you have questions about study programmes, courses and exams, study abroad, personal circumstances, graduation, or anything else that concerns your study at the Faculty of Economics and Business? You can ask them at the Student Support Desk.
You can visit the Student Support Desk. The Student Support Desk is located in the Plaza of the Duisenberg Building.
On these pages you find online answers to frequently asked questions. Or ask your own question there, which the Student Support Desk team will answer as soon as possible. If you can not find your question in the frequently asked questions, please send your email to studentsupport.feb@rug.nl.
Furthermore, the Student Support Desk is accessible by phone: 050 363 8900.
From 15 July until 16 August 2019 the Student Support Desk will only be open in the afternoon from 13:00 - 17:00.
Opening hours
Accessibility bij telephone
► 050 363 8900
Monday
10:00 - 17:00
10:00 - 17:00
Tuesday
9:00 - 17:00
9:00 - 17:00
Wednesday
13:00 - 17:00
13:00 - 17:00
Thursday
9:00 - 17:00
9:00 - 17:00
Friday
9:00 - 17:00
9:00 - 17:00
Study advisors FEB
The study advisors offer supra curricular counselling. They play an important role in academic career counselling offered by our faculty, but you can certainly also contact them on your own initiative. Naturally all matters remain confidential.
Information Services
Do you have questions about your registration and deregistration, tuition fees, application and admission (for Dutch students) or do you want to apply for a new student card? Please contact the Information Services.
Frequently asked questions
Immigration Service Desk
Do you have questions about immigration issues, visa for incoming guests, residence permits, taxes for bursary students, health insurance, registration an City Hall, getting settled in Groningen? You can ask them at the Immigration Service Desk.

Not a FEB student, but taking courses at FEB?
Please, take a look at the webpage for information on course and exam enrolment.
| | |
| --- | --- |
| Last modified: | 06 August 2019 3.51 p.m. |