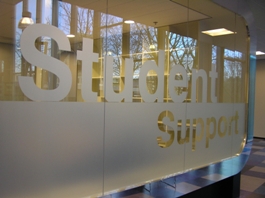 Heb je vragen over je studieprogramma, vakken en tentamens, studeren in het buitenland, persoonlijke omstandigheden, afstuderen, of andere onderwerpen over je studie bij de Faculteit Economie en Bedrijfskunde? Dan kun je hiervoor bij de Student Support Desk terecht.
Ga naar de Student Support Desk met je vraag. Je kunt de Student Support Desk vinden in de Plaza van het Duisenberggebouw.
Op deze pagina's vind je antwoorden op veelgestelde vragen. Ook kun je daar zelf een vraag stellen, die het team van de Student Support Desk zo spoedig mogelijk zal beantwoorden. Als je je vraag niet vindt in de veelgestelde vragen vindt, stuur dan een e-mail naar

studentsupport.feb rug.nl

.
Verder is de Student Support Desk telefonisch bereikbaar: 050 363 8900.
Openingstijden
Telefonische bereikbaarheid
► 050 363 8900
Maandag
10:00 - 17:00 uur

10:00 - 17:00 uur

Dinsdag
09:00 - 17:00 uur

09:00 - 17:00 uur

Woensdag
13:00 - 17:00 uur

13:00 - 17:00 uur

Donderdag

09:00 - 17:00 uur

09:00 - 17:00 uur

Vrijdag

09:00 - 17:00 uur
09:00 - 17:00 uur
Studieadviseurs FEB
De studieadviseurs bieden vakoverstijgende begeleiding. Ze spelen een belangrijke rol in de begeleiding die de faculteit biedt, maar uiteraard kun je hen ook benaderen uit eigen initiatief. Alles wat je met de studieadviseur bespreekt, is en blijft vertrouwelijk.
Studenten Informatie en Administratie
Heb je vragen over aanmelding en toelating, in- en uitschrijving, collegegeld, studievertraging en Profileringsfonds, klachten, bezwaar en beroep of functiebeperking, dan kun je hiervoor terecht bij Studenten Informatie en Administratie.
Veelgestelde vragen
Immigration Service Desk
Heb je vragen over immigratie, visa voor inkomende gasten, verblijfsvergunningen, belasting voor buitenlandse bursalen, zorgverzekeringen of vestigen in Groningen, dan kun je terecht bij de Immigration Service Desk.

Geen student aan de FEB, maar volg je wel FEB vakken?
Kijk hier voor informatie over vak- en tentamenaanmelding.
---
| | |
| --- | --- |
| Laatst gewijzigd: | 29 januari 2020 15:05 |