What we offer
Studying at FEB is more than just getting a degree, it is all about developing yourself personally and professionally and preparing you for the future. To help you along the way, FEB Career Services offers throughout the academic year a wide range of activities to support you in finding out what you want later in life and showing you how to prepare.

Advice & Support
FEB's career advisors Nienke and Mohamoud will help you in all career related matters and give advice when it comes to preparing for your future. They are looking forward to providing you with practical tips and tools regarding your CV and motivation letter and offering you support in finding suitable internships.
The Career Advice team is at all times ready to guide you through the stages of your career preparation process. At FEB you have the opportunity to just book an individual appointment with Nienke or Mohamoud and discuss any possible questions you might have with regard to your career options, planning, skill development, internship vacancies or extra-curricular activities that will contribute to your career readiness.
Workshops & Events
Where can you meet your future employer? FEB Career Services organizes several career activities for you to join! Participating in these activities will prepare you for the job market and help you define your career path.
Careers Week
Employability workshops
Company Dating
Company pop-up stores on the campus
Plenty of activities are also organized by FEB's study associations (EBF, tema, RISK, marug, VESTING, PM and GFE)
Practical experience
At FEB we also offer several opportunities to apply your academic skills in a work-related setting. Complementary to your programme, we will offer curricular and extra curricular activities to engage in:
Business Research and Consulting (working on a consultancy project for a company and ultimately presenting results to the management)
Internships (gaining work experience)
Business Challenges (6-week competition delivering an advice report to a business client)
Learning Communities (extra curricular course to deepen your knowledge in a field of interest or to acquire skills such as; leadership and project management)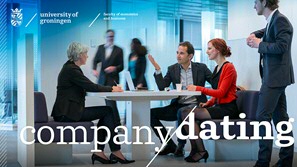 | | |
| --- | --- |
| Last modified: | 04 February 2019 2.46 p.m. |