Opening FEB Academic Year | Thursday 4 September 2014
FEB students and staff celebrate the opening of 2014-2015

► See all pictures of the opening event!
---
Date: Thursday 4 September 2014, 4.00 - 5.30pm (welcome as of 3.30pm)
Location: Room 15 Kapteynborg (J) 5419.0015 (Landleven 12, Zernike Complex, Groningen). (Location in Google Maps)
Theme: Moving forward - passenger and freight transport
---
On Thursday 4 September FEB and EBF will jointly celebrate the opening of the new FEB academic year 2014-2015, with lectures, discussion, awards, drinks & music, and more!
We welcome two prominent alumni of our Faculty to give a guest lecture.


FEB students: hand in a question for Meijer and/or Huges and win!
Do you have an interesting question for our guest speakers? Send yours beforehand to communicatie.feb@rug.nl (before 11am Thursday) and win a great prize: an 'OV fiets membership' or a surprise prize of Port of Amsterdam.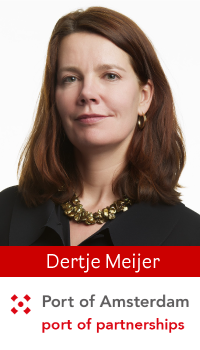 Opening with:

- Dertje Meijer, CEO Port of Amsterdam.
(Business Administration graduate, FEB, 1989) Meijer will talk about the Port of Amsterdam in 2030: the changing role of the port authorities and the relation with the services and industry sectors in the area. What role will the Port play in the recycling and bio-based economy? How can innovation be fuelled in a co-creation relation between businesses and the Port of Amsterdam?
> interview with Dertje Meijer
- Timo Huges, President of NS, Dutch Railways
(Business Administration graduate, FEB, 1991) Huges' presentation will focus on the themes social, economic and environmental responsibility: for example the use of 100% green energy sources. He will talk about NS passenger transport and how to truly cooperate with Arriva and ProRail, how to simplify operations and how to really put the passenger first.
> interview with Timo Huges
- FEB Professor of Industrial Engineering Iris Vis.
Chairman of the Opening Ceremony

Award ceremonies for:

► FEB Newcomer of the Year
► FEB Freshman of the Year
► FEB Lecturer of the Year
(See also: Winners of last year)
Programme
15.30
Welcome
16.00
-Opening by prof. Iris Vis
-Welcome by FEB dean and EBF chairman
16.10
Leadership Panel Dertje Meijer
16.30
Presentation of awards by dean Harry Garretsen and Quest boardmembers Lisan Spiegelaar and Joep Willemse
16.50
Leadership Panel Timo Huges
17.10
Leadership Panel debate
17.30-18.30

-Drinks & snacks in the Duisenberg Plaza (new bar at the Careers Company!)
-Music by Martijje & Allard
-Presentation of tree for our new honorary doctors 2014: Paul Polman and Dani Rodrik

| | |
| --- | --- |
| Last modified: | 12 September 2014 10.16 a.m. |