Illicit Trade
A practical view into the dark side of globalization
Dates & location
7 - 12 July 2019, Groningen, the Netherlands
CALL CLOSED
Level
Finalizing BA/MA/PhD/Postdoc/Practitioners
Fee
€ 505 (excluding accommodation)
€ 750 (including accommodation)
Coordinators
Dr. Francesco Giumelli, Faculty of Arts
Dr. Tim Wittig, Faculty of Arts
Contact

illicittrade rug.nl
Money laundering. Terrorist finance. Drug trafficking. Arms smuggling. Illicit trafficking of wildlife, human body parts, and ancient historical artifacts. Tax havens. Proliferation of WMDs. Oil bunkering. Human smuggling and the modern day slave trade. Conflict minerals and blood diamonds. These are not just abstract terms, but billion dollar globalized industries that are part of the world's globally interconnected economy and which overlap with and exacerbate terrorism, war and conflict, corruption, authoritarianism, and other contemporary security threats.
This unique summer school course pierces the vale of secrecy around these issues and teaches students about illicit financing and trading; not only through theory and book study, but by learning the actual practices and techniques criminals, terrorists, and dictators use to obscure their profits and evade accountability for their actions, and the corresponding techniques to counter them.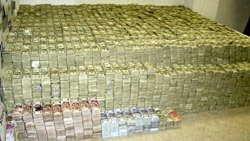 Now in its third year, this exciting course is the first of its kind in teaching illicit trade in a holistic and practically useful way. Students will learn how to set up offshore companies and bank accounts, obscure the beneficial ownership of assets, exploit the loop-holes of dual-use goods legal systems, and identify vulnerabilities in particular institutions, countries, and jurisdictions. The summer school includes academic and practical learning about illicit finance, trafficking, and trade, field visits to practitioners involved in countering these threats, and expert examination into strategies and practices about how to combat illicit trade.
Lecturers
Last summer lecturers included senior experts and officials from the following institutions:
Interpol
NATO
Investigative NGOs
Financial Institutions
US Drug Enforcement Ageny
Risk Analysis Consultancies
National Defence University
| | |
| --- | --- |
| Last modified: | 05 April 2019 2.16 p.m. |