What's Happening at the UG this Summer?
| | |
| --- | --- |
| Date: | 07 July 2020 |
| Author: | Ariana |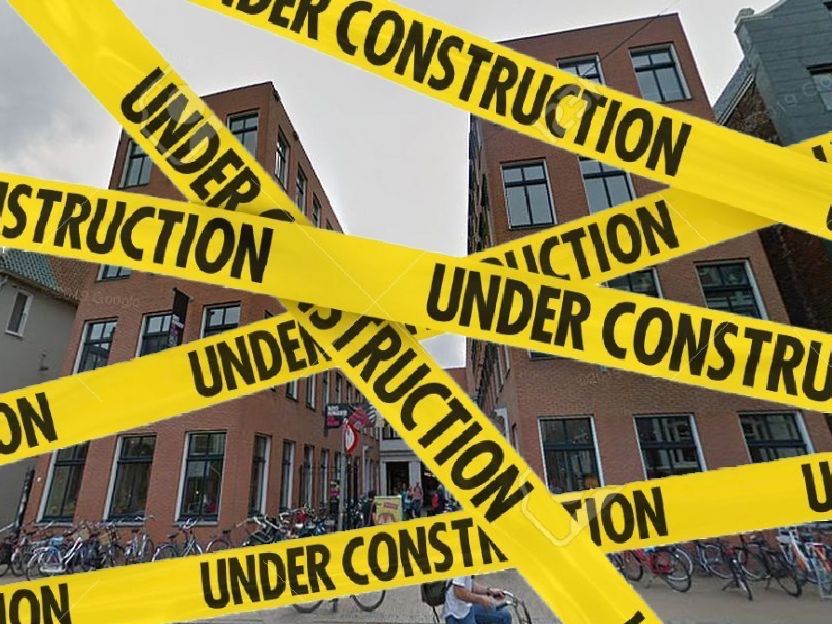 Every year around this time, the UG sees its students switch their morning lectures for summer plans, and their campus buildings for lakes and beaches. But while you're enjoying the sun and making the most out of the stress-free days, the UG is busy working. Despite all the change we've experienced this year, this summer is no different. Sure, the UG's buildings have been quite lonely since they were closed down in March, but behind the scenes, a lot is happening to ensure the uni is in top shape before the start of the next academic year. Ever wonder what happens at the university during the summer? Groundbreaking work. A lot of it.
Check out the 2020 edition:
Zernike will see a major glow-up
Zernike Campus is finally having the self-care moment it deserved. If you study at Zernike, you've most likely seen half of the road in front of Duisenberg being completely closed off, sort of abandoned and neglected. Well, that's all getting a makeover, and it'll be turned into a park. A new boardwalk is being constructed to make the Duisenberg spot a nicer spot to chill in between lectures, and the foundations have already been set. Work is expected to be completed around December (so maybe you'll get to enjoy the boardwalk next to the frozen pond in the winter). Also, a grandstand is being built next to the Willem-Alexander Sports Centre in collaboration with Hanze UAS. It'll be the companion to the new panna court that's being built right in front of it.
What in the world is a Healthy Ageing Campus?
The northern UMCG area will also see a lot of change, as it will house the UG's new Healthy Ageing Campus. The surprise is that this campus will hold way more than just health-related buildings. In fact, it will also be the new home for the USVA (the student cultural center) and the UCG. By the way, did you know all first-year UCG students all have to live in student residences? It's part of the UCG experience, and to make it even better, a new SSH building will be made right next to the campus, so that students can live and study right on campus. I bet everyone who lives in Helpman and has to bike all the way to Zernike will feel pretty jealous. Apart from the UCG and USVA getting completely new facilities, there will also be new teaching centres that will be dedicated mostly to medical and pharmacy students. At the center of the campus will be a nice 'city square', complete with (finally) decent bus stops. Work for this has started now, and will continue until 2022.
The Feringa Building is still under construction
The Feringa Building promises to be the UG's coolest building yet, and for good reason. If there's something that the UG feels extremely proud of, it is Prof. dr. Ben Feringa, Nobel Prize winner and renowned faculty member of the Faculty of Science and Engineering. FSE students have been long deserving of not only larger facilities to accommodate everyone, but also better educational spaces. All of this will now be housed under a modern building with the latest technology to ensure that groundbreaking contributions to scientific fields can continue to be made. The foundations for the building were completed in February, and now, the building is beginning to take shape. Outlines of the bike garages, rooms, and lecture halls can already be seen from above. Here's a fun fact: the building will have 3 entire kilometers worth of laboratory tables, and 30 laser labs.
Linnaeusborg renovations
A lot of good is coming towards FSE's future! One of the faculty's buildings, mostly used for research, is also getting a big revamp on the inside to accommodate more researchers, and safer research spaces. This renovation project is one of the longest, since the building will be kept in function during the renovations. As of now, two new labs have been built, and a technical area has been upgraded. However, several more of these renovations will come in the future years. Work is expected to last until March 2021.
New lecture halls in the city center
Several faculties and studies currently compete for the educational spaces located in the city center, mainly the ones in the Harmonie Complex, and the Academy Building. Because of the growing size of the faculties over the past years, making sure each faculty has enough space has been a challenge. However, starting this September, six new temporary lecture halls will be habilitated in the old Forum library next to the UB. Word goes that the Faculty of Law will move there in the future, but for this upcoming academic year, the ground floor will be kept as lecture halls and a study area. There is still some uncertainty as to how these will be used during the first semester, since on-campus activities for each faculty and programme are still being discussed. Nevertheless, chances are that if you study at BSS, ThRS, Arts, and the Law faculties, you'll most likely be walking through these lecture halls yourself this academic year.

Groningen is slowly opening back up. Sure enough, activity might have been reduced, students might have left to their homes, but Groningen and the UG are still changing and working to provide new spaces and opportunities. If you've been gone for a while, you might encounter a few changes in the city itself once you return. And as for these projects that I just mentioned above, I'm sure they won't go unnoticed too. Are you excited for any of these projects? Let me know in the comments below.
About the author
Ariana
Hey! I'm Ariana and I'm a Costa Rican student with a passion for photography, dancing, and cute dogs. Aside from writing blogs, I'm doing my Bachelor's in Media Studies. If you see me around smiling at my phone, I'm probably looking at memes (or cute dogs).
Comments