UG Resources You Should Know About
| | |
| --- | --- |
| Date: | 02 October 2021 |
| Author: | Luc |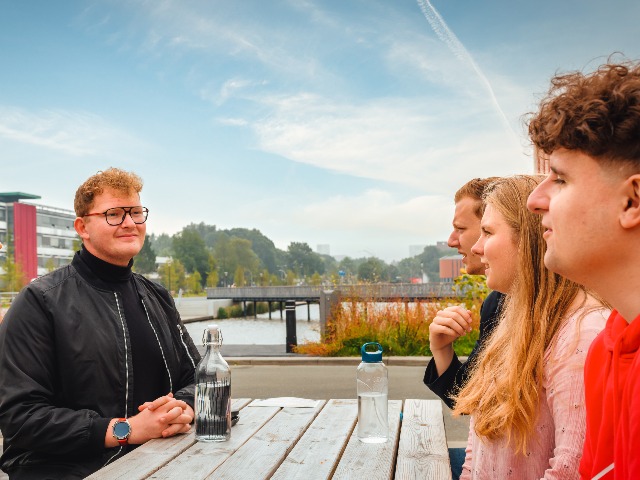 I remember when I first started studying at the UG, I was often a little confused about which departments I should contact for certain issues, or even that there were so many resources that I had access to. Looking back, I think if I had known about all the resources at my fingertips, it would have been much easier to maximise my life at the UG! Whether you're a new student or an existing one, there are a lot of interesting resources to check out! Of course we know about study spots in the UB, the possibility of chatting to our student advisors and the printing facilities throughout our buildings. But the resources provided by the University of Groningen go far beyond just these.
I hope that this blog can help you navigate some of the academic, career and well-being resources found at the UG!
Academic Resources at the UG:
If you're wondering about how to go about doing anything related to your academic life at the UG – there are some very important resources to look through in order to facilitate your academic growth! Firstly, your most important point of contact is your study advisor. Study advisors can help you with anything from accessing your student email address to choosing a minor. You can find a full list of student advisor contacts at this link. I have always found the study advisors to be so helpful in guiding me through my programme choices, especially while studying during the pandemic, their guidance really helped me keep my studies on track.
Have you ever done some research for a project only to realise that the site that you are on does not give you free access? Well, you don't need to worry about this anymore! Just access the University of Groningen's SmartCat – here you will find thousands of academic papers and journals to boost your research! If you're looking for research specifically published by UG researchers – check out the UG Research Database.
There are some important departments that you should know about. If you want to know about some practical things like tuition fees, diplomas, official statements and your student card – you should contact Student Information and Administration (SIA). Apart from SIA, other helpful departments to know about are; the Immigration Services Desk – which provides help with insurance and visa procedures. The Mobility and Scholarships Desk is the best point of contact if you are interested in the scholarships available at the UG.
Career Resources to kickstart your professional future:
The student phase of your life is definitely one of the most rewarding times you will have – full of interesting experiences and new skills!. The UG offers a number of resources to its students in order to help them find a career path best suited to them after their studies. The one-stop shop for anything to do with your career would be the Career Services. This department deals with everything from helping you construct a stand-out CV, to preparing you for job interviews, LinkedIn profile building and putting you in contact with prospective employers. If you're looking for a part-time job alongside your studies, check with Career Services! You can even pop by the University's IShop where one of the store workers can give you some tips on who best to contact in career services. Check out Avital's Career Corner for more tips on finding work and maximising your profile!
If you've got some time that you'd like to fill by doing something interesting – I recommend attending a language course at the Language Centre! It's a great way to learn a new language and maximise your skillset for the future. This is a great way to learn about new cultures and also make new friends learning the same language as you! Currently, the language centre offers 14 language courses. As an added bonus, there are free Dutch courses available to all students and staff at the UG. Or if you need a translation of an official document – you can also contact the language centre for some guidance.
Wellbeing and Student Life:
One of the most important aspects of having a good academic experience is ensuring that your wellbeing is at an optimal level whenever you can.
Sports are a great way to ensure that you remain healthy. The ACLO is open to all students in Groningen, they offer amazing facilities for every sport imaginable! An ACLO card costs 59,95 euros for the whole year and gives you access to over 90 sports as well as sports fields, tennis courts and a swimming pool! I even participated in something called Bungee Superfly - where you do an amazing workout attached to a bungee cable! For more information about student associations at the UG - take a look at this blog.
The most important resource for constructing a good balance at the UG is the Student Service Centre – located just next to the Harmony Building complex in Groningen's city centre. Here you will find a wealth of incredible workshops on how to study, stress management, self-discipline, personal development and maximising your study choices to benefit you. If you're experiencing issues with productivity, balancing your life or study anxiety, the SSC is a great place to seek some practical tips and help. If you feel that your personal circumstances are negatively affecting your studies, and you need someone to talk to – the student counsellors and student psychologists are there to help you too.
There are loads of resources open to students at the UG, and I hope that this blog helps you navigate some of the main ones that you should definitely make use of during your time here!
About the author
Luc
Hi there! I am Luc, a South African student of International and European Law. In my spare time you will find me consuming Netflix, playing guitar and singing, cycling around, spending time with friends and whispering "what a cutie" to every dog and cat that happens to walk past me in Groningen!
Comments