Global Cast

Listen to the Campus Fryslân podcast series called Global Cast. Our faculty has a great diversity of people, subjects and knowledge, waiting to be shared with the rest of the world, by means of interesting conversations and interviews. Worth listening!
Episode 7: Data and Society: A critical introduction between two authors
In this episode we discuss the brand new book : Data and Society: A Critical Introduction. Our guests and authors of the book, Sabina Leonelli and Anne Beaulieu will give a short introduction on this topic and the reason why they wrote it. This book investigates the growing importance of data as a technological, social, economic and scientific resource. It explains how data practices have come to underpin all aspects of human life and explores what this means for those directly involved in handling data.
It might be clear that (big) data are part of our every day life and have become very powerful in society and science. Therefore there will be a great need for scientists, who will produce more social responsible data.
Grounded in examples spanning genetics, sport and digital innovation, both writers will give an insight into the deep interrelations between technical, social and ethical aspects of data work.
---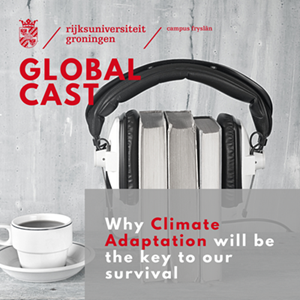 Episode 6: Using data-driven measures to manage COVID-19
As vaccines and effective treatment are continuously under development, governments, private organizations, and scientific institutions develop data-driven programs as an option to mitigate the impact of the pandemic. Is it possible to use mobile apps and data-measures to end the pandemic locally or by nation? What are the consequences in terms of privacy and legislation for citizens and companies?
In this episode we will be joined by two scientists who recently researched the developments on these Data-driven-measures to mitigate the impact of COVID-19 and digital vaccination passports: Dr. Oskar Gstrein, Assistant Professor at the University of Groningen, Campus Fryslân Data Research Centre and Taís Blauth, PHD candidate with focus on Artificial Intelligence and International Relations. Join us for another episode of GlobalCast
Episode 5: Why climate adaptation will be the key to our survival
Are you more than aware of your behavior and impact on the Climate as a World Citizen? Or is it just something you heard about? Do we need to adapt individually or do we need to adapt more as a community, together? How can we adapt? And why is it called: The Key to Our Survival? As always at GlobalCast we dive in a bit deeper with the help of some experts.
This episode we invited two Climate & Adaptation specialists: Dr. Karsten Schulz, Assistant Professor Governance & Innovation at University of Groningen Campus Fryslan and an expert on Climate Change Adaptation & Disaster Risk Reduction. Sander Chan PhD, is a Political scientist specialized in transnational climate action and global environmental politics and most recently as a senior researcher at the Global Center on Adaptation.
---
Episode 4: Voice Technology: scientific and professional insights
In this episode of GlobalCast, we will have a quick dive into the booming business of Voice Technology with two experts: Matt Coler and Esther Klabbers. Matt Coler is Associate Professor and Director of the Voice Technology Master of Science Programme at Campus Fryslân and Esther Klabbers is a speech scientist at ReadSpeaker (based in Driebergen-Rijsenburg), a leading business in Voice Technology.
---
Episode 3: Podcasts hosted by first year students of Campus Fryslân, class of Global Health
For their last assignment of the year, the first year students of the class Global Health (UCF) produced podcasts in small project groups. The topics were all related to COVID-19. The research, interviews, editing and presentation was done by the students. This resulted in beautiful productions and episodes worth listening to: how does COVID-19 affect our day-to-day life across the globe, across the population groups, and across the social strata?
---
Episode 2: The future of tourism, rethinking public and private space
After several months of quarantine and social distancing, people not only have questions about their own health, their work and school, but more and more they want to know if they can still travel around, take an airplane or go to their favorite restaurant. The use of public space has changed so much within these new COVID-19 rules, so, what to expect? Elena Cavagnaro and Lucia Tomassini will give us a forecast.
---
Episode 1: Working and Teaching online: an inside and forecast
How does the pandemic help us teach our students to change the world? And how does COVID-19 transform the means and contents of education? In this first episode of Global Cast we talked about working and teaching online.
Anne Beaulieu and Sepideh Yousefzadeh, lecturers of Campus Fryslân, are the first guests of Global Cast, both enthusiastic and dedicated educators willing to tell their story and experiences.
Host: Saskia Rosendaal
| | |
| --- | --- |
| Last modified: | 12 January 2022 2.58 p.m. |