De Executive MBA Health is voor gedreven managers en leidinggevenden die hun kennis en begrip willen verdiepen en verbreden, en hun positie in het gezondheidslandschap willen verbeteren. Tevens is de opleiding uitermate geschikt voor ambitieuze health professionals die vooral hun business- en managementvaardigheden willen verbeteren en de bredere context van het gezondheidslandschap willen begrijpen.
Doelgroepen
Managers
Afdelings- en unithoofden
Directeuren en bestuurders
Partners in maatschappen
Leerdoelen
Na afronding van de Executive MBA:
Heeft u een diepgaand begrip van het gezondheidslandschap, de bedrijfskundige aspecten van zorg en welzijn en de economische context
Heeft u strategische visie en leiderschapskwaliteiten ontwikkeld
Kunt u impactvolle veranderingsprojecten en organisatietransformaties implementeren met toegevoegde waarde voor zorg en welzijn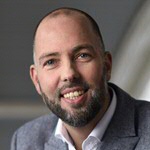 ---

"De docenten van UGBS hebben allen een grote theoretische en veelal ook praktische bagage en zijn goed in staat hun academisch onderwijs inhoudelijk relevant en qua interactie uitdagend te brengen. Bovendien hielp de samenwerking met andere deelnemers vanuit andere organisaties mij mijn eigen beelden te actualiseren of te upgraden."
Martin Hemmen, Directeur Financiën, Martini Ziekenhuis en alumnus University of Groningen Business School
>lees zijn verhaal: "We moeten met elkaar tot een integraal (zorg)stelsel komen dat aansluit op veranderende behoeften in de maatschappij"
| | |
| --- | --- |
| Laatst gewijzigd: | 04 juli 2023 15:22 |