Requirements / Eligibility criteria
Call closed since 1 February 2017
Important: Call Closed!
General requirements
We are looking for female candidates who meet the following requirements:
a PhD degree for preferably at least 3 years on

reference date

1 February 2017

exemplary research record demonstrated by publications in international top journals and/or in peer-reviewed books

proof of independence and international recognition

experience in various working environments, preferably in different countries

successful in acquiring external funding for research projects

teaching experience or proven inclination for teaching demonstrated by for instance tutoring/mentoring of individuals or small groups

demonstrable organizational qualities and communication skills

a well-founded and motivated application with an innovative research plan for the first five years and a challenging outlook for the future which takes into account the international research landscape in their field of specialization

must not have resided or carried out their main activity (work, studies, etc.) in the Netherlands for more than 12 months in the 3 years immediately prior to the reference date of 1 February 2017.
Eligibility check
Please check whether you are eligible to apply by doing the eligibility check: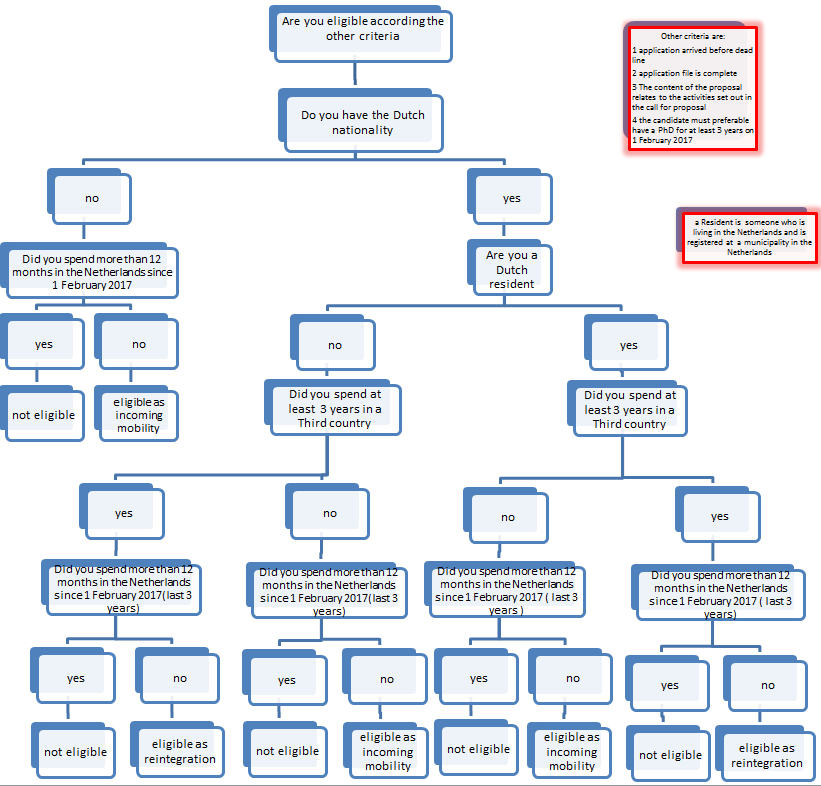 | | |
| --- | --- |
| Last modified: | 01 February 2017 09.59 a.m. |