The first day as a Nobel Laureate
On Wednesday morning just after a quarter to twelve, the chairman of the Nobel Committee starts his announcement. This year's Nobel Prize for Chemistry goes to the tiniest machines, he says. Then he reads out the names of the three winners, and the third is Bernard L. Feringa. What everybody in Groningen had hoped for has happened.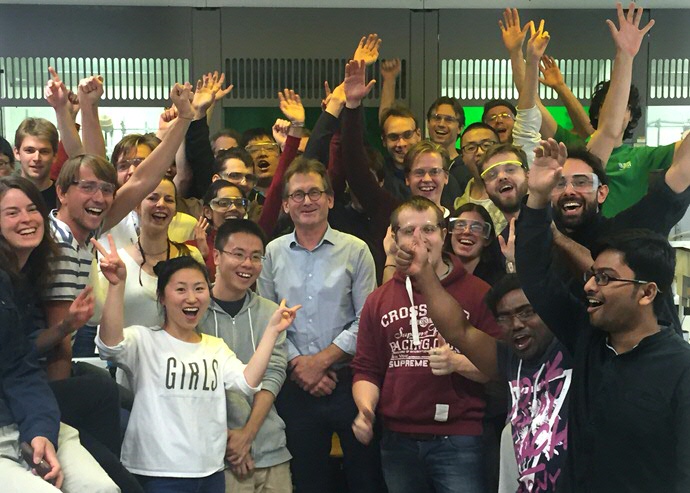 'I am deeply honoured'
About fifteen minutes after the announcement, the corridor outside Feringa's second floor office is crowded. His entire department appears to be there, most of them with huge grins on their faces. As of today, they are working in the lab of a Nobel Laureate. However, the Laureate is nowhere to be seen. He is inside his office, on the phone, talking live to the press in Stockholm. When the excited noises in the hall become a bit too loud, people hiss 'quiet!', so as not to disturb him. They want quiet as they are listening to what he's saying through the Nobel website on their smartphones. Then Feringa appears, and a huge cheer goes up and applause erupts. Emeritus professor Jan Engberts, the Nestor of the Institute, congratulates him with a short speech. 'We all hoped for this, and now it has become reality'. Then, Ben Feringa addresses the crowd. 'I am deeply honoured', he says, the emotion audible in his voice.
The world's first molecular car
'None of this could have happened without all the hard work of all the brilliant students and staff. Thank you so much. I hope this will help you in your careers.' Then the door closes again. Soon, the first journalists gather in the Chemistry and Physics building, followed by camera crews. The building is buzzing, especially when a celebration is announced for 3 p.m. in a large lecture room. The room is packed long before that time, and even the hall outside is filling up rapidly. When Feringa finally arrives, the place explodes, and he is cheered non-stop. Words of praise and gifts follow. Among them a toy Ferrari, a running gag in the Faculty ever since Feringa built the world's first molecular car. His wife and two of his daughters are also present, and Feringa draws the important role of a top scientist's partner to everyone's attention.
Press conference
Next, he goes to the centre of town, where a press conference has been scheduled in the Academy Building. The red carpet is out. Whether for the Nobel Laureate or the students getting their degrees today, it doesn't really matter. Again, Feringa thanks and praises his students and colleagues. The world watches the press conference via a live stream. More interviews follow, and then Feringa is off to Hilversum, for a live interview on the TV programme Nieuwsuur. Then it's on to Amsterdam, where more journalists await him tomorrow at a press session at the Royal Dutch Academy of Sciences.
| | |
| --- | --- |
| Last modified: | 26 August 2019 08.29 a.m. |