Jansen, Prof. Ritsert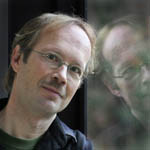 Expertise

Talent development and acquiring grants; bio-informatics

Curriculum vitae

Ritsert Jansen (1963) is professor of bio-informatics and head of the Groningen Bioinformatics Centre. Jansen studied mathematics at the University of Groningen and then went to work for a research institute in Wageningen. The advent of new biomolecular tools led him to develop new statistical tools for mapping QTLs ('quantitative trait loci', stretches of DNA containing or linked to the genes that underlie a quantitative trait) in plants, and this research formed the basis of his PhD thesis. In 2002, he returned to the University of Groningen where he holds a joint appointment at the Faculty of Science and Engineering and the Faculty of Medical Sciences as a professor of bioinformatics. At present, his research group is interested in designing, modelling and analysing quantitative biomolecular experiments on populations, using 'genetic genomics' strategies that combine the merits of genetics with the power of genomics.
Jansen is also a 'Dean of Talent Development' at the University of Groningen. As an acclaimed researcher he likes to give young colleagues a helping hand. In 2011 his book Developing a Talent for Science was published by Cambridge University Press, in which he discusses the stressful life of modern scientists in an increasingly competitive academic environment. 'You are an entrepreneur in the land of research', says Jansen. 'In the past you would be welcomed to your new research place with a big bag of money, but nowadays scientists have to gather their own funds by winning grants.' In 2013 Funding your career in Science was released by Cambridge University Press.
As Dean, Jansen is involved in matters such as training courses for academics in the field of applying for grants and holding presentations, as well as in the Grants Week, a large event for researchers seeking to acquire grants.

Previously in the news

Contact and further information
| | |
| --- | --- |
| Last modified: | 14 August 2019 1.16 p.m. |