Cao, prof.dr.ir. Ming

Ming Cao is hoogleraar Netwerken en Robots aan de Faculty of Science and Engineering. In zijn onderzoek richt hij zich op multi-agent systems, complexe systemen en netwerken, sensornetwerken en autonome robots. Cao verricht baanbrekend werk op het gebied van controlesystemen die groepen autonome robots laten samenwerken. Om autonome auto's en robots veilig en effectief te laten functioneren, moeten zij rekening houden met elkaars handelen. Ming Cao werkt aan deze ontwikkeling met collega's uit de sociologie, wiskunde en biologie. Op deze manier ontwikkelt hij algoritmen voor de robots die deels geïnspireerd zijn op de bewegingen van dieren, vooral vissen en vogels die ook in formatie handelen.
Cao behaalde in 1999 zijn Bachelor of Engineering aan de Tsinghua University in Peking, China. Vervolgens behaalde hij in 2002 zijn Master of Engineering aan dezelfde universiteit. In 2003 behaalde hij daarnaast zijn Master of Science aan Yale University in New Haven, Verenigde Staten en in 2007 ontving hij zijn PhD bij het Department of Electrical Engineering van Yale University.
Eerder in het nieuws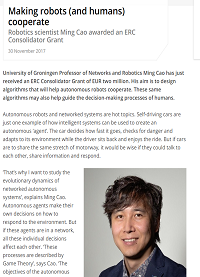 Contact en meer informatie
Publicaties
| | |
| --- | --- |
| Laatst gewijzigd: | 06 september 2018 11:33 |