Grant support
Educational grants are an important resource for teachers to advance their teaching skills and career by increasing visibility and recognition of the role of the educator. Teaching Academy Groningen supports teachers in obtaining educational grants by providing information, inspiration and feedback sessions. Teaching Academy Groningen is in contact with a wide network of experts and we are more than willing to help you to optimize your proposal.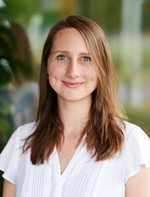 Meet TAG Grant Coordinator: Dr. M.C. (Maaike) Engels (Grant Coordinator)
Dr. Maaike Engels is an educational researcher and advisor, currently serving as the grant coordinator for TAG. Her academic journey began with the completion of a Bachelor and Research Master in Educational Sciences at Utrecht University, followed by the attainment of a Ph.D. in Psychology from KU Leuven in 2018. Dr. Engels worked several years as a postdoctoral researcher and teacher at the Department of Sociology at the University of Groningen. From 2022 to 2024, she joined the Educational Staff Development team (Educational Support and Innovation, CIT), where she played a role in training and coaching both novice and experienced teachers in their professional development. In addition to her responsibilities at ESI, Dr. Engels provided guidance and coordination to teachers in their pursuit of educational grant applications at TAG. Her dedication reflects a commitment to facilitating the intricate process of grant applications, with the ultimate goal of leaving a lasting impact on the educational landscape and enhancing its overall quality.
---
We advise you to check our webpage for information on the educational grants and procedures. Do you have any additional questions? You can reach out to the Grant Coordinator, Dr. Maaike Engels via m.c.engels rug.nl.
| | |
| --- | --- |
| Last modified: | 23 November 2023 10.27 p.m. |