Xandra Velzeboer opent 2023 knallend met drie nationale titels, Daan Kos ook naar EK Shorttrack
| | |
| --- | --- |
| Date: | 02 January 2023 |
| Author: | Groningen Topsportstudiestad |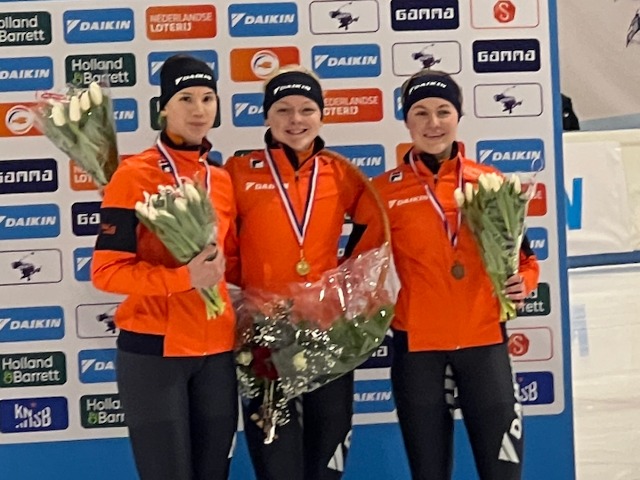 Voor Xandra Velzeboer kon 2023 niet beter beginnen. De studente Life Science and Technology aan de RuG werd tijdens de NK Shorttrack in Leeuwarden Nederlands kampioene op drie afstanden en behaalde daarmee een maximale score. Dat haar jongere zus Michelle ook nog eens twee keer brons won, maakte het nieuwjaarsfeestje voor de familie Velzeboer alleen maar mooier. En net als Xandra en Michelle mag Biology-student Daan Kos ook naar het komende EK Shorttrack.
Xandra Velzeboer was op 1 januari in de Elfstedenhal van Leeuwarden de snelste op de 500, 1000 en 1500 meter. "Ik ging voor alle drie de titels en het is mooi dat het is gelukt," zegt ze tevreden na haar derde winnende race. "Ik wist dat het moest lukken als ik deed wat ik moest doen. Ook superleuk dat ik twee keer met Michelle op het podium stond."
Michelle, die ook Life Science and Technology aan de Rijksuniversiteit Groningen studeert, won brons op de 500 en 1000 meter en stond dus twee keer trots naast Xandra die weer trots was op haar zusje. "We houden ons vooral met onszelf bezig en ik denk dat dat ook goed is. Het is dus niet zo dat we dat van tevoren met elkaar bespreken. We hebben natuurlijk onze eigen doelen, maar ik wist wel dat het erin zat."
Na het zeer succesvolle seizoen 2021-2022, met goud op de Spelen en een wereldtitel op de 500 meter, begon dit seizoen ook voortvarend voor Xandra. Ze won tijdens de eerste World Cup in Montreal de 500 meter en 1000 meter. Een week later werd het in Salt Lake City nog mooier met het verbeteren van het wereldrecord op de 500 meter en opnieuw World Cup-winst.
World Cup 3 en 4 in Almaty in Kazachstan waren minder succesvol. Xandra: "Tijdens de eerste World Cup in Almaty was ik ziek waardoor ik niet mee kon doen en bij de tweede was de vorm er wel, maar had ik gewoon wat pech waardoor ik door vallen geen resultaten kon behalen. Dat was wel heel erg jammer en daar heb ik ook wel even van gebaald, maar ik wist dat het niet lag aan mijn schaatsen, maar aan dingen die ook kunnen gebeuren met shorttrack.
Xandra liet zich weer helemaal zien tijdens het NK en ze kijkt dan ook uit naar het komende EK dat van 13 tot en met 15 januari plaatsvindt in het Poolse Gdansk. "Ik ga daar op alle afstanden weer voor de winst. We gaan het zien." Michelle gaat ook naar Gdanks waar ze uit gaat komen op de 1000 en 1500 meter.
Daan Kos, Niels Kingma en Anne Floor Otter
Er kwamen tijdens de NK Shorttrack nog meer topsportstudenten van de RuG in actie. Naast Xandra en Michelle Velzeboer slaagde Daan Kos er tevens in een medaille te winnen. De eerstejaars-student Biology won verrassend zilver op de 500 meter en is dankzij dat mooie resultaat ook geselecteerd voor de Europese Kampioenschappen.
Niels Kingma en Anne Floor Otter, beide studeren Geneeskunde, grepen tijdens de NK net naast de medailles. Niels eindigde als vierde op 500 en 1000 meter, Anne Floor werd vierde op de 1500 meter. Niels en Anne Floor gaan tussen 12 en 22 januari wel de eer van de RuG verdedigen tijdens de World University Games in het Amerikaanse Lake Placid. Mogelijk dat Daan Kos na het EK ook naar Lake Placid afreist. Binnenkort verschijnt hier meer informatie over het grootste wintersportevenement na de Olympische Winterspelen.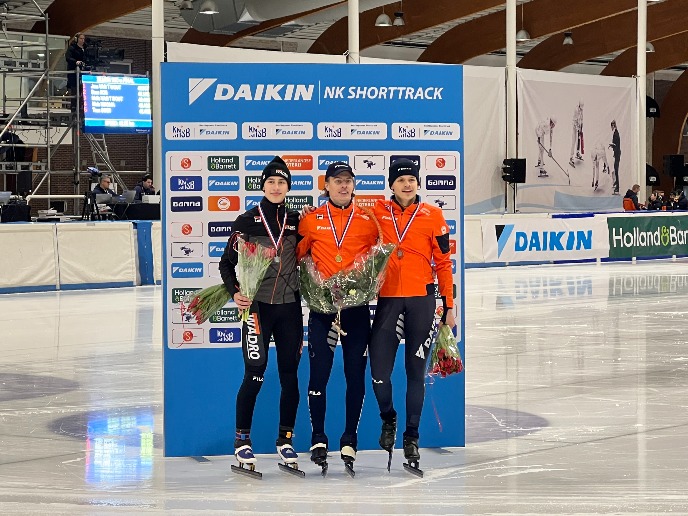 Tags:
sports
,
shorttrack
,
xandra velzeboer
,
michelle
,
daan kos
,
niels kingma
,
anne floor otter
,
heerenveen
,
groningen
,
studie
,
topsport
,
nk
,
leeuwarden
,
elfstedenhal
Comments