RUG-studenten zorgen voor succes op het ijs
| | |
| --- | --- |
| Date: | 29 November 2021 |
| Author: | Groningen Topsportstudiestad |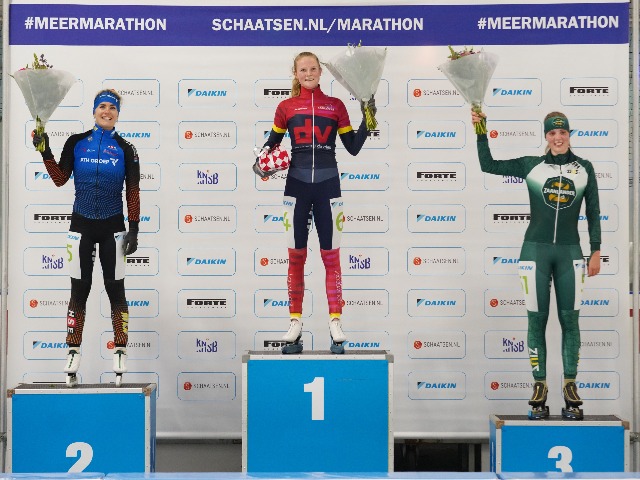 Een aantal RUG-studenten vierde afgelopen weekend succes op het ijs. Studente bewegingswetenschappen Esther Kiel won op het ijs van Tilburg voor het eerst een schaatsmarathon. Een stuk verderop, in Dordrecht, won Xandra Velzeboer, studente life science and technology, de wereldbeker shorttrack met de Nederlandse aflossingsploeg.
Esther Kiel was op het ijs van Tilburg de snelste na een marathon over 80 ronden. Het was voor Esther de eerste marathonzege. Ze richt zich vooral op het langebaanschaatsen en heeft dus nog niet veel marathons op haar naam staan. De vreugde was na de finish dan ook groot. "Ik had een plannetje, maar ik dacht vooral heel erg: rustig blijven, Esther. Ik hield voortdurend Jade van der Molen en Merel Bosma in de gaten, want zij zijn meer bedreven in het rijden van finales. Het was steeds kijken hoe zoiets werkt, wat zij deden. Al heb ik al behoorlijk wat marathons gereden, ik heb er niet zo heel veel ervaring mee, en zeker niet als het gaat om het meedoen om de overwinning. Ik moet het allemaal nog leren. Maar wat is het gaaf en spannend vooral," aldus Esther op schaatsen.nl
Het was dit seizoen pas de tweede marathon van Esther. In de andere marathon die ze schaatste eindigde ze als vierde. In het algemeen klassement is Esther terug te vinden op de zestiende plaats. Bij de mannen finishte Daan Gelling in de zesde marathon van dit seizoen als vijfde. De student spatial planning and design is ook de nummer vijf van het algemeen klassement. In het jongerenklassement staat Daan tweede.
Er was nog meer succes op het ijs want shorttrackster Xandra Velzeboer won met de Nederlandse aflossingsploeg de wereldbeker. In Dordrecht was de ploeg, met verder onder anderen Suzanne Schulting, voor de derde keer op rij de sterkste wat de Nederlandse ploeg de eindzege opleverde. Individueel eindigde Xandra op de 1000 meter als vierde en op de 500 meter als zesde.
Tags:
sports
,
ice
,
skating
,
shorttrack
,
marathon
,
esther kiel
,
xandra velzeboer
,
daan gelling
,
studie
,
rug
,
rijksuniversiteit