Project information
The Temporary Extra Educational Spaces (TEO) project was launched in 2020. The project will last four years and runs until December 2023.
The first goal of this project is to realize additional educational spaces that are suitable for active learning. Of course, teachers should be able to make optimal use of these spaces. A second goal is therefore to support teachers from all our faculties in putting active learning into practice. We advise and help teachers with the (re)design of their education as part of this project.
The project also has a research component, carried out by researchers from the Faculty of Behavioral and Social Sciences.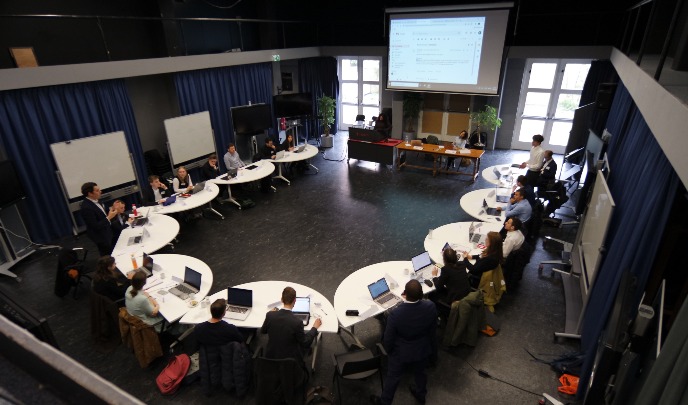 In the meantime, we no longer speak of "temporary" educational spaces, as the name of the project suggests. Active Learning Classrooms are and remain an important and very practical interpretation of our university's educational vision.
TEO, ZEO and HEO
We use the abbreviation TEO for the overarching project. However, there are now several sub-projects. For the realization of the Active Learning Classrooms at the Zernike campus, we use the abbreviation ZEO. Three faculties are intensively involved in this: the Faculty of Spatial Sciences (FSS), the Faculty of Economics and Business (FEB) and the Faculty of Science & Engineering (FSE). Multiple Active Learning Classrooms have now been realized at the Zernike campus, but there are more to follow. The ZEO steering committee consists of dr. Arjan van den Assem, prof. dr. Manda Broekhuis, dr. ir. Gerco Onderwater, prof. dr. Jan Riezebos, dr. Peter Smid en prof. dr. Rob Timmermans.
For the inner city, there is one Active Learning Classroom, and there is work in progress on extra teaching spaces in the Harmony Complex. This is done in close collaboration with the board of the Faculty of Arts and of the Faculty of Law. We use the abbreviation HEO for this.
| | |
| --- | --- |
| Last modified: | 17 May 2022 1.14 p.m. |