Didactical use
Active learning activities come in all shapes and sizes. These activities are teaching methods that you can use as a teacher to promote active learning in students. Implementing active learning therefore means shifting the focus of instruction from knowledge transfer to student knowledge construction through the creation of guided tasks, interactions, assignments, and environments that cultivate deep, meaningful learning.
Active learning activities promote understanding rather than memorizing facts; they encourage students to apply what they have learned to different problems and contexts (problem-based learning). In addition, students gain more autonomy and ownership in their learning process.
Constructive alignment
When choosing learning activities, it is always important to keep constructive alignment in mind. Do the learning activities match the set learning objectives and the way in which the achievement of these learning objectives will be tested?
Active learning activities
Below are several examples of active learning activities. The list is by no means exhaustive, but it does provide a handy overview to inspire teachers in the design of their course. The image is from the University of Michigan (Introduction to Active Learning). The activities mentioned are also described in detail on this website.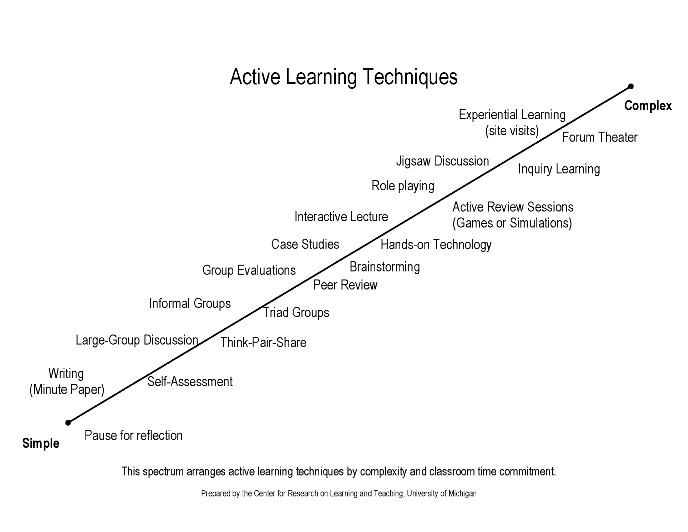 References and more information
For more information and inspiration on active learning activities, see:
| | |
| --- | --- |
| Last modified: | 23 January 2023 12.10 p.m. |