Active Learning
What is meant by Active Learning? The term is widely used, and there are quite some definitions. Based on literature research, we have established the following definition of active learning:
"The basic premise of active learning involves focusing on reinforcing higher-order thinking skills and instructional techniques, requiring learners to actively participate in the ownership of their learning." (Shroff et al., 2019, p. 109).
Three elements are important here. First, Active Learning focuses on higher-order thinking skills (cf. Bloom's taxonomy; Kratwohl, 2002). The University of Groningen trains its students to become critical researchers, which means that they develop (among others) the following skills:
Analyzing: breaking up information into pieces to investigate connections and relationships;
Evaluating: motivating or justifying a decision or event;
Creating: generating new ideas, products, or points of view.
Secondly, the teacher's instruction should be in line with these higher-order thinking skills. Assignments and teaching methods should stimulate students to analyze, evaluate and create. This applies to both the content of the lectures and the material that is offered outside of it.
Third, student ownership is central to this definition. This means that students have an active role in determining their own learning process. This includes being able to determine learning objectives, pace, order of assignments, choice of research themes, and self-monitoring of understanding.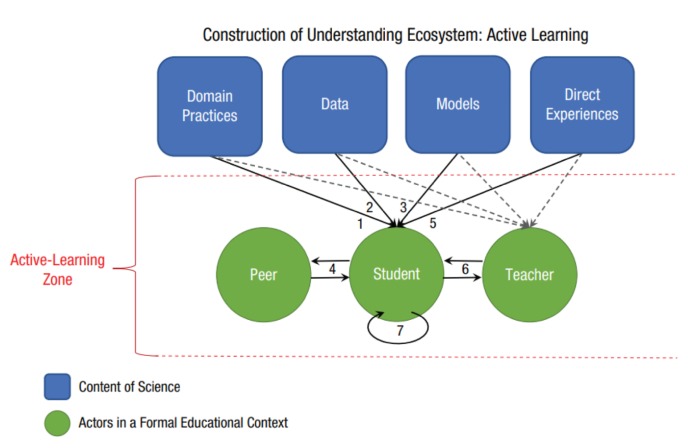 The Active Learning Classrooms are aimed at facilitating these three elements. Or, as Fraser (2014) puts it:
These spaces "facilitate collaborative, connected and active learning […] (in spaces that) are technology-enabled and allow for students to use their own devices [...] as well as having comfortable furniture that is configured easily and quickly by academics and students to suit different pedagogies.''
Fraser, K. (2014). Introduction. In K. Fraser (Ed.), Future of learning and teaching in next generation learning spaces (Vol. 12, pp. xv-xxiii). Bingley: Emerald Group. https://doi.org/10.1108/S1479-3628_2014_0000012024
Kratwohl, D. R. (2002). A revision of Bloom's taxonomy: An overview. Theory Into Practice, 41(4), 212-218. https://doi.org/10.1207/s15430421tip4104_2
Shroff, R. H., Ting, F. S. T., & Lam, W. H. (2019). Development and validation of an instrument to measure students' perceptions of technology-enabled active learning. Australasian Journal of Educational Technology, 35(4). https://doi.org/10.14742/ajet.4472
| | |
| --- | --- |
| Last modified: | 07 September 2023 11.25 a.m. |