Tromp, Prof. Moniek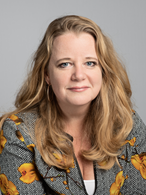 Moniek Tromp is a physical chemist. After having worked abroad for 10 years, she returned to the Netherlands and has worked at the University of Groningen as Professor of Material Chemistry since 2018. She is also the current chair of the Zernike Institute for Advanced Materials (ZIAM), where she will take on the role of academic director as from 1 January 2023. Tromp studied chemistry at Utrecht University, from which she received her PhD cum laude (with distinction) in 2004 for her thesis on inorganic chemistry and catalysis.
Her research focuses on the development and application of characterizing techniques in research on sustainable materials, primarily by looking at interactions between substrates and catalysts. She developed her own spectrometer, which she continues to refine. Together with her research group, Tromp is working on the battery of the future. 'They will have to last longer and need to be made from sustainable materials. Batteries become increasingly important every day. We need them everywhere that energy needs to be temporarily stored. And that is becoming the case in more and more situations. Take, for example, the problems that generating solar energy prove for our power network.'
Tromp is the current chair of the Dutch Society for Catalysis (of the Royal Dutch Chemical Society (KNCV)). Additionally, she is committed to achieving greater gender equality in the hard sciences; she was active as the Gender Equality Officer and now develops programmes for primary schools about science, technology, and gender bias issues.
Previously in the news (mainly in Dutch)
More information
| | |
| --- | --- |
| Last modified: | 22 August 2023 1.41 p.m. |