Popović, Prof. Mladen

Mladen Popović studied at the University of Groningen, the Katholieke Universiteit Leuven and Yale University. He conducted archaeological research in Megiddo and Jerusalem. Popović is head of the Qumran Institute of the University of Groningen, which has a leading role within the Netherlands in the study of the Dead Sea Scrolls. As of September 2017, Popovic has been appointed as the dean of the Faculty of Theology and Religious Studies.
In 2008 Popović was awarded the Keetje Hodshon Prize of the Royal Holland Society of Sciences and Humanities for his cum laude PhD thesis. In late 2009, NWO awarded him a Veni grant. Veni grants are intended for young researchers who have recently gained a PhD and have significant and original talent for innovative research.
Popović was curator of the unique exhibition of the Dead Sea Scrolls in the Drents Museum. It was the first time in the Netherlands that an entire exhibition was dedicated to this famous discovery. With the help of artificial intelligence, Popović now wants to discover who wrote and copied the Dead Sea Scrolls. Together with Lambert Schomaker, scientific director of the Artificial Intelligence Institute of the RUG, Popović wants to analyze the Dead Sea Scrolls digitally. They believe that with highly advanced techniques for pattern matching and image processing, the individual writers of the manuscripts can be identified. This makes it possible to find out who wrote which manuscript, if one or more people wrote a manuscript and the importance of their roles. With this knowledge it is possible to have a better understanding of the Dead Sea Scrolls and the culture from which they originated.
In 2014 Popović was awarded an ERC Starting Grant of €1,5 million. He can use the funding to continue developing his pioneering research on the Dead Sea Scrolls. Using new techniques such as artificial intelligence and carbon dating in combination with palaeography (the study of ancient and historical handwriting), Popović will work with the Department of Artificial Intelligence and the Centre for Isotope Research to develop a new method for studying the Dead Sea Scrolls, known as 'Digital palaeography'. In 2016 he was awarded a Dutch NWO-FWO grant for his research.
In 2021, through analysis of the manuscript with artificial intelligence, Popović, Prof. Lambert Schomaker and PhD student Maruf Dhali discovered that the famous great Isaiah scroll was written by two writers.
Previously in the news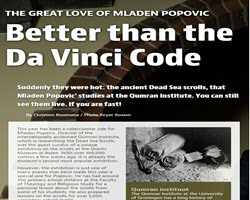 Contact and further information
Publications
| | |
| --- | --- |
| Last modified: | 04 July 2022 1.01 p.m. |