Loi, Prof. Maria Antonietta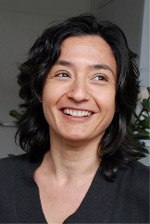 Prof. Maria Antonietta Loi received her PhD from the University of Cagliari (Italy) in 2001 and went on to work at the Johannes Kepler University of Linz and at the Italian National Research Council (CNR) in Bologna. She has been a Rosalind Franklin Fellow at the University of Groningen since 2006. In 2010 she became associate professor and in 2011 head of the Photophysics & Optoelectronics research group. Loi and her group aim to lay the foundations for a whole new generation of solar cells that can be produced cheaply and have a high-energy yield. She mainly focuses on fundamental research, looking into the properties of new types of semiconductors and how these materials can be used to generate energy – both directly, in the form of electricity, and in the form of chemical energy via water splitting.
Loi won the 2011 FOM Minerva Prize for the best academic publication by a female researcher on a physics subject, and in 2012 she was awarded a prestigious Starting Grant by the European Research Council. Her research concentrates on the study of unconventional semiconductors, the interaction between light and matter and how this phenomenon can be used to generate energy. In 2018 Loi was awarded the Physics Prize for excellent physics research by a physicist working in the Netherlands.
In April 2022 Maria Loi has been awarded with an ERC Advanced Grant by the European Research Council. Later that year The Royal Netherlands Academy of Arts and Sciences (KNAW) has appointed Professor Maria Loi as a member of the Academy. Members of the KNAW are prominent academics from all disciplines and are chosen on the basis of their academic achievements.
Previously in the news
Contact and further information
Publications
| | |
| --- | --- |
| Last modified: | 09 June 2023 8.36 p.m. |