Dr. Marline Lisette Wilders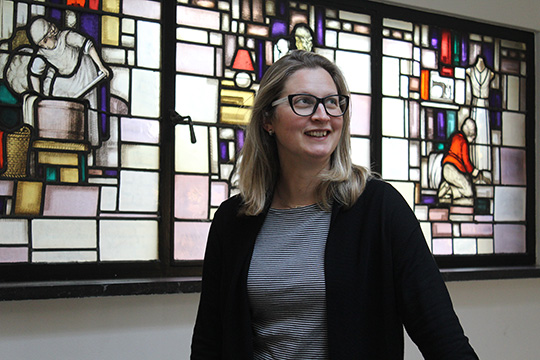 Could you tell me something about yourself?
My name is Marline Lisette (but I also go by the name Marlieke, which sometimes confuses people) and I am an Assistant Professor in Arts in Society and Empirical Methods for the Humanities at the Department of Humanities at UCG. I am Dutch and familiar with Groningen, since I studied in Groningen myself and got both of my masters degrees (in architectural history and in arts and arts policy) and later my PhD title, from the Faculty of Arts at the University of Groningen. I worked for several years as an assistant professor in Cultural Studies at the University of Amsterdam, before doing two years of postdoc research in Northern Italy on the re-use of industrial heritage as spaces for the performing arts.
What is it like studying Humanities at UCG?
I can see how many possibilities students have to take ownership in designing their own LAS programme and combine courses from the the Humanities with courses from the Social Sciences and Sciences. The Humanities courses at UCG focus on the ways in which insights in culture can be used to bring about social change. The course on Artivism that I teach is a good example of that approach.
What courses do you teach at UCG?
I teach Academic Writing, Research Methods for Humanities, and like I said, Artivism. In addition I am a tutor of first year students and supervise theses. In the Artivism course I explore with students how the arts and activism come together in artivism. We work around the concept of artistic citizenship to investigate questions about the responsibility of the artist in a civic society and how artists give expression to their artistic citizenship. We depart from fundamental questions about the value of the arts in society and whether the arts should and can be put to work to strive for a more inclusive and just society; to address issues like migration, human rights or discrimination. We try to find the answers to questions about the role the arts could or should fulfil in activism, by which means, for which audiences and with what effects.
What do you like most about being a lecturer at UCG?
In my courses I have students majoring in different disciplines, with different interests and different cultural backgrounds that all share the same classroom. At UCG we work with small seminar groups, so there is plenty of opportunity for discussion. Through these discussions students can learn a lot from each other, they learn to form their opinions and in the process I learn from them. Mostly on how young(er) people perceive the world and their position in it.
What is your favourite thing about UCG?
Meeting lots of new people and having colleagues with very different backgrounds that work in completely different fields than I do. This diversity from an academic perspective is not easy to find, I suppose.
Is there any advice you could give to prospective UCG students?
If you have the possibility to study at UCG, take the opportunity. I feel students at UCG are very privileged. They become part of a vibrant community of students and staff and Groningen has a lot to offer. UCG even offers housing to UCG students, which I think is a huge benefit, since housing is a considerable problem in Groningen.
| | |
| --- | --- |
| Last modified: | 29 September 2021 5.06 p.m. |