prof. dr. M.C. Michel
Associate Professor - Chair of Language Learning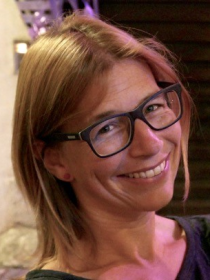 ---
Ongoing (Groningen University)
Loes Groen "Bruggen bouwen: Een academisch profielspecifiek leesvaardigheidsprogramma op het VWO ter voorbereiding op het lezen van wetenschappelijke Engelstalige teksten in het vervolgonderwijs" Promotor: Prof. Wander Lowie. Fully funded by Dudoc Alfa, Groningen University.
Laura Stiefenhöfer "Invstigating collaborative task-based online writing. Triangulating eye-tracking and key-stroke logging". Fully funded English for Academic Purposes Scholarship, Lancaster University.
Completed (Lancaster University)
Jacky Chan "Word learning by child EFL learners in natural settings – the role of the preschool teacher" Co-supervised with Padraic Monaghan. Fully funded Economics and Social Sciences Research Council (ESRC) Scholarship, UK (2020).
Giulia Sulis "The dynamics of student and teacher motivation in the task-based multilingual classroom". Co-supervised with Jenefer Philp. Fully funded Faculty of Social Sciences Scholarship, Lancaster University (2020).
Lara Vella "Out of school attitudes of parents and their children towards English and Maltese in Malta" (2018).
Nadia ElAraini "Knowledge and use of syntactic focusing devices of advanced Saudi female EFL learners" (2018).
José Luis Moreno Vega "Effects of input enhancement on L2 intake" (2018).
Abdalkarim Zawawi "Quantifying syntactic priming in oral production: A corpus-based investigation into dyadic interaction of L1-L1 and L2-L2 speakers of English" (2017).
Nicola Halenko "Evaluating the explicit pragmatic instruction of requests and apologies in a study abroad setting.The case of Chinese ESL learners at a UK higher education institution" (2017).
Muna Al-Shehri "Incidental vocabulary acquisition through listening by young Saudi Arabic learners of English" (2015).
Current teaching at the RUG

MA Education: The CEFR in context
MA Applied Linguistics: Teaching Methodology and Second Language Development
BA Europese languages and culture: German as a foreign language
BA Communication/Information Sciences: Intercultural Communicatie
Former teaching (selection)


BA level


Taalonderwijskunde; Methoden onderzoek Interculturele communicatie (Universiteit Utrecht)
Communicative Language Teaching (Universität Mannheim)
De meertalige stad; Dutch language and society (Universiteit van Amsterdam)
Deutsch als Zweitsprache im Fach (Technische Universität Dortmund)
DaZ und Theater (Eberhard Karls Universität Tübingen)

MA level - at Lancaster University

Second Language Acquisition
Instructed SLA
Research Methods in Applied Linguistics (online)
Task-based Language Teaching (TBLT)

PhD level

TBLT (blended learning, Thesis and Coursework, Lancaster University)
Summerschool on SLA (Eberhard Karls Universität Tübingen
| | |
| --- | --- |
| Last modified: | 24 September 2020 5.06 p.m. |