prof. dr. M.C. Michel
Associate Professor - Chair of Language Learning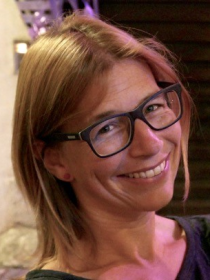 ---
Associate Professor Marije Michel studied Dutch and German at Utrecht University and holds a PhD in Applied Linguistics of the University of Amsterdam (2011). Since 2020 she is Chair of Language Learning for European Languages and Cultures at Groningen University. Marije's research and teaching focuses on (second) language processing and learning and multilingualism in educational settings.
In the past Marije worked as a post-doctoral fellow within the project SprachKoPF and as a lecturer of English Linguistics at Mannheim University and held several teaching positions at German and Dutch Universities (e.g., English Linguistics in Cologne, German Linguistics in Tübingen), as well as an assistant post at Utrecht University. Before joining Groningen University in 2018, she was a lecturer in language teaching and learning at the Department of Linguistics and English Language at Lancaster University in the UK, where she still supervises PhD candidates.
At Groningen University, Marije teaches within the Educational MA for the Modern Foreign Languages, the MA Applied Linguistics and contributes to classes on intercultural communication and German as a foreign language. As Chair of Language Learning she is responsible for all language classes taught within the BA European Languages and Cultures: Dutch, English, French, German, Italian, Russian, Spanish and Swedish.
Marije is member of the Dutch Meesterschapsteam moderne vreemde talen, and treasturer of the European Second Language Association (EuroSLA) and academic board member of the English Academy for Newcomers.
As an editoral board member, she frequently reviews for the journals System, TASK and PlosOne - and many others.
| | |
| --- | --- |
| Last modified: | 16 October 2020 12.54 a.m. |