L. (Lorenzo) Squintani, Prof
Professor of Energy Law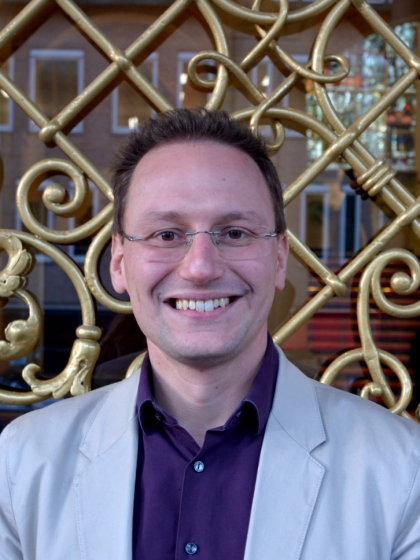 ---
Lorenzo Squintani researches the foundation of EU sustainability law. Based on the normative framework to asses sustainability proposed by Gaines in Squintani & Vedder 2014, Sustainable Energy United in Diversity: Challenges and Approaches in Energy Transition in the EU, he looks at what needs to be done to spur sustainability in the European Union. He mainly focuses his research on three criteria from this framework: a) multi-level governance, b) integration and c) public participation. Within the context of public participation, he is fouder and co-director of the Like!Me Living Lab Project (see below).
As regards the multi-level governance criterion, he looks at the relationship between the EU and Member States competences to pass environmental legislation. He established a framework to assess whether Member States adopt more stringent protective measures than those prescribed by Brussels (Squintani, Holwerda and De Graaf 2012, Regulating greenshouse gas emissions from EU ETS installations: what room is left for the member states, EE; Squintani 2013, Gold-plating of European environmental law; and Anker, de Graaf, Purdy, & Squintani, 2015, Coping with EU Environmental Legislation: Transposition Principles and Practices, JEL ), and used it to asses Member States practice (e.g. Jans & Squintani with Others 2010, "Gold plating" of European Environmental Measures?, JEEPL; Squintani 2012 The development of ecological corridors, JEEPL; Squintani 2013, The Dutch policy on gold-plating and the transposition of Directive 2008/98/EC on waste, ELNIRev.; Squintani & Zijlmans 2013, 'Nationale koppen' en de doorwerking van natuurbeschermingsverdragen, M&R; Squintani 2015, Regulation of emissions from non-ETS sectors, EE ). His research in this field shows that Member States are progressively eliminating standards going beyond EU requirements, therefore potentially jeopardizing the functioning of the EU system for environmental protection. His study of the manner in which Member States strategies influence EU decision-making shows that also in this phase, costs minimization rather than environmental protection dictates Member States actions (Squintani 2015, Better Regulation with Make it Work: An assessment of the Make it Work's Drafting Principles on Compliance Assurance, ELNIRev).
As regards, the integration criterion, Squintani established that the EU Treaties stand in the way to sustainability (Squintani & Vanheusden 2016, Reconciling Conflicting Values: A Call for Research on Instruments to Achieve Quasi-Sustainability, 2nd EELF book), and looked at the programmatic approach as a means to achieve quasi-sustainability. In this regard he showed how the programmatic-aproach should be regulated at EU level to blance integration and adaptability with legal certainty and, therefore ensure environmental protection, rather than endanger it (Squintani & Van Rijswick 2016, Improving Legal Certainty and Adaptability in the Programmatic Approach, JEL). His study of Member States use of the programmatic approach shows how Member States can misuse this approach to spur economic development at cost of environmental protection (Plambeck & Squintani 2017, De bescherming en verbetering van de waterkwaliteit in Nederland, of: een troebele implementatie van de KRW, M&R; Plambeck, Squintani & Van Rijswick 2017, Towards more effective protection of water resources in Europe by improving the implementation of the Water Framework Directive and the Aarhus Convention in Netherlands, 3rd EELF Book; Squintani, Plambeck and Van Rijswick, 2017, Strengths and Weaknesses of the Dutch Implementation of the Water Framework Directive, JEEPL; and Squintani & Zijlmans with Others 2018, Sincere Judicial Cooperation in Time of Economic Recovery in the European Union).
Further, Squintani established that the regulation of this approach needs to be improved from the perspective of legal certainty and adaptability in order to spur sustainability (Squintani & Van Rijswick 2016, Improving Legal Certainty and Adaptability in the Programmatic Approach, JEL). Also judicial protection should be improved as regards plans and prorgammes having a regulatory nature (Squintani & Plambeck, 2016, Judicial Protection against Plans and Programmes Affecting the Environment: A Backdoor Solution to Get an Answer from Luxembourg, JEEPL; and Plambeck & Squintani 2018, Rechtsbescherming tegen plannen en programma's in het waterrecht, ofwel van het kastje naar de muur?). In order to spur the protection of individuals at national level against wrongful implementation of EU environmental law, he researched the functioning of Direct Effect and Procedural Autonomy in the EU legal order, and made suggestion for improvements (Squintani & Vedder 2013, De proceduralisering van het Europees milieurecht: De arresten Krizan en Leth nader beschouwd, SEW; Squintani & Vedder 2014, The Aarhus Paradox: Time to Speak about Equal Opportunities in Environmental Governance, RECIEL; Squintani & Plambeck, 2016, Judicial Protection against Plans and Programmes Affecting the Environment: A Backdoor Solution to Get an Answer from Luxembourg, JEEPL; Squintani, Lindeboom & Vedder 2018, 'We Wash Our Hands in Innocence': Inverse Vertical Direct Effect of Directives and the Elusive Distinction Between Obligations and Mere Adverse Repercussions; and Squintani & Rakipi 2018, Where law becomes politics: Public Policy Choice Clauses as a means to explain 'unconditionality' under direct effect).
Finally, as regards the public participation criterion, he established that public participation procedures as organized today seem to lead to social divide and conflict rather than cohesion and acceptance (Squintani 2017, The Aarhus Paradox: Time to Speak about Equal Opportunities in Environmental Governance, JEEPL). He is now researching how equal opportunities, ie intra-generational equity, can be ensured during public participation procedures. To this extent, he established the Like!Me project in which a Living-Lab with public authorities and undertakings in the Groningen Province cooperate under real life conditions to establish which approach ensures the highest level of equal opportunities in environmental governance.
The Like!Me Living Lab Project
Lorenzo Squintani is founder and co-director of the Like!Me Living Lab Project, which is a cooperation between the European Union Law Department and the Department of Environmental Psychology of the University of Groningen. The Province of Groningen, the municipalities of Stadsknaal, Oldambt, Midden-Groningen, Bedum, Winsum, De Marne Eemsmond, Zuidhorn, Grootegast, Leek, Marum and (in principle) Groningen, the Waterschap Hunze en Aa's and the GGD Groningen participate to this Living Lab. Other public bodies and private companies are interested as well.
Hereby a quick overview of the project
The European Union has developed a variety of policies and regulatory instruments to facilitate a sustainable energy transition, limit climate change and foster environmental protection. Concrete measures in this policy area are taken by the Member States, often at local level. Central to these policies and regulations is public participation, namely the need to engage the public in development and implementation of sustainable (energy) projects. The underlying reasoning is that projects can be improved by including diverse societal interests and concerns, and that this will make the projects more acceptable for different groups of society. But is public participation really a silver bullet for more inclusive and societally acceptable policy instruments? There is evidence to suggest that public participation as organized today in energy projects is non-inclusive, which fuels public resistance (eg. Colvin, Witt, & Lacey, 2016; Devine-Wright, 2011; Sovacool, Heffron, McCauley, & Goldthau, 2016). In the EU, there seems to be what can be called a Public Participation Paradox (Squintani, 2017). It entails that the more public participation procedures occur, the less democratic society becomes.
Literature suggests that the paradox occurs when there is predominantly homogeneity of participants and low effectiveness of the inputs brought by certain groups of society. In this article, we propose that the criteria for better, more inclusive projects are twofold: 1) inclusiveness of different groups in society on equalitarian base, and 2) inclusiveness of diverse societal values that are affected by energy projects. While these two aspects are typically discussed interchangeably in the literature, we propose that different processes are at play in promoting them and that an integrated approach is needed to ensure that both are achieved. We develop such approach, based on the equal opportunities perspective from social rights research and the human values perspective from environmental psychology.
To this end, we formulate two interrelated hypotheses. First, we hypothesize that the 'positive discrimination principle', if applied to the various phases of public participation procedures allows marginalized group of society, such as low educated, to take part to public participation procedures (so-called 'equity based framework'). This will increase heterogeneity in the group of persons taking part to the public participation process and the effectiveness of the inputs brought by today marginalised groups of society. Still, getting more people to participate does not yet ensure better inclusiveness of diverse values. People may not realize how a project affects their values or, if only people who strongly endorse certain values participate, this may create asymmetry in values that are represented in a debate. Accordingly, secondly, we postulate that the 'core human values framework' can be used to assess and enhance the level of value heterogeneity in participation processes. Addressing different values in communication and probing them in participation procedures can help spur value heterogeneity in participation procedures. Moreover, the core human values framework helps clarifying the relevance of public participation procedures to all groups of society, including those nowadays more marginalized. Conversely, by stimulating participation of marginalized groups of society the equity based approach may increase heterogeneity in the core human values represented in public participation procedures.
This innovative theoretical framework will be used in empirical research within the Like!Me Living Lab in the Province of Groningen. Like!Me stands for Like! My Environment. The Province itself and several local authorities cooperate with the University of Groningen to validate or falsify these two hypotheses.
In the period January 2018, June 2018, the Living Lab will be focusing on mapping the ongoing real-life practice as regards public participation in environmental matters. This will lead to a better understanding of the existing structures, cultures and issues concerning public participation in environmental matters within the societal partners of the Like!Me Living Lab. This will allow to formulate specific research projects aiming at testing which variables influence the effectiveness of public participation. This second phase will last till the end of 2022.
For example, one variable that could be assessed during this second phase focuses on the dissemination of information to the public in view of the public participation procedures. The experiment would consist in actively disseminating information to low-educated members of the public while passively disseminating the same kind of information to high educated members of the public. We will then assess whether this form of positive discrimination in the field of the dissemination of information influences the level of equity of the participation process and the level of heterogeneity of the values represented therein.
All steps of the research will be presented to the members of the Living Lab and within the platform of Aan de Slag met de Omgevingswet. At the end of the research project, it should be possible to establish which variables under which conditions increase inclusiveness, acceptability and the quality of decision making, thus the effectiveness of public participation procedures. The findings will be presented in a 'Insight guide' to be used by public authorities and undertaking, as well by researchers when working within the realm of public participation in environmental matters.
| | |
| --- | --- |
| Last modified: | 25 June 2022 2.28 p.m. |