prof. dr. ir. J.M.A. Scherpen
Professor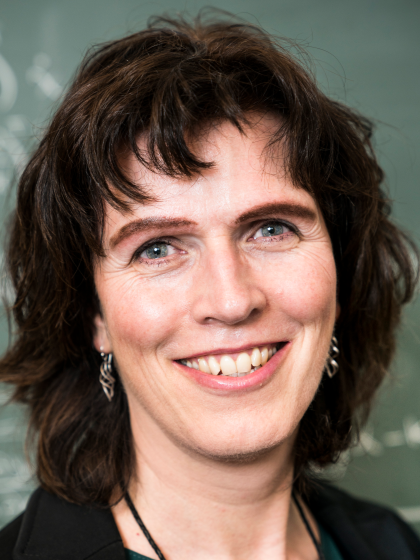 ---
Biography
Jacquelien M.A. Scherpen received her M.Sc. and Ph.D. degree in Applied Mathematics from the University of Twente, The Netherlands, in 1990 and 1994, respectively in the field of Systems and Control. Her thesis was entitled: "Balancing for nonlinear systems". From 1994 to 2006 she was at Delft University of Technology, The Netherlands. First, she was a post-doc both in the Circuits and Systems and Control Engineering groups of Electrical Engineering, followed by an assistant (1995) and associate (1999) professorship in the Control Engineering group. In 2003 the group merged into the Delft Center for Systems and Control of Delft University of Technology, The Netherlands. Since September 2006 she holds a professor position at the University of Groningen in the Engineering and Technology institute Groningen (ENTEG) at the faculty of Science and Engineering. From 2013-2019, she was research director of ENTEG. Since 2016 she is also director of the Groningen Engineering Center, the Center that unites all engineering related research and teaching at the University of Groningen.
She has held visiting research positions at the Universite de Compiegne, France, SUPELEC, Gif-sur-Yvette, France, the University of Tokyo, Japan and the Old Dominion University, VA, USA. Her research interests include nonlinear model reduction methods, realization theory, nonlinear control methods, with in particular modeling and control of physical systems with applications to electrical circuits, electro-mechanical systems and mechanical systems. Recently, her research interest focusses as well on distributed (optimal) control methds for smart grid applications. Industrial and space applications are also included in her interests. She has been an associate editor of the IEEE Transactions on Automatic Control, of the International Journal of Robust and Nonlinear Control, and of the IMA Journal of Mathematical Control and Information. She is currently member of the editorial board of the International Journal of Robust and Nonlinear Control. In 2020 she won the Automatica best paper prize for the 2019 paper "Balanced truncation of networked linear passive systems" with Xiaodong Cheng and Bart Besselink.
Furthermore, she is member of the board of the Dutch Institute of Systems and Control (DISC) since 2015, president since 2020 and vice president from 2017-2019 of the European Control Association (EUCA), vice-chair of the Publications Committee of the International Federation of Automatic Control (IFAC) since 2017, member of the board of Governors of the IEEE Control Systems Society in 2017 and since 2019, and since 2015 member of the Steering committee of the MTNS (Mathematical Theory of Networks and Systems). Since 2020 she is appointed as Captain of Science of the Dutch High Tech Systems and Materials Top Sector.
On Friday 26 April 2019, Prof. Jacquelien Scherpen has been appointed Knight of the Order of the Netherlands Lion. She received this honorably distinction as international pioneer in her field who is widely acclaimed for her excellent personal achievements and great societal reputations. She is known as a very gifted, enthusiastic scientist and teacher, a source of inspiration to students and a strong researcher with a tremendous drive for finding innovative solutions to challenging problems stemming from professional practice. She contributes significantly to the development of new technologies that are indispensable for highly socially relevant applications, such as robotics, digital factories and smart energy grids. She is the driving force behind the strengthening and broadening of engineering research and teaching in Groningen. Click here for the full information.
Some popular videos:
Some scientific presentations:
Relevant webpages:
| | |
| --- | --- |
| Last modified: | 10 June 2020 11.52 a.m. |