C. (Charmaine) Borg, Dr
Assistant Professor, Certified PsychoSexologist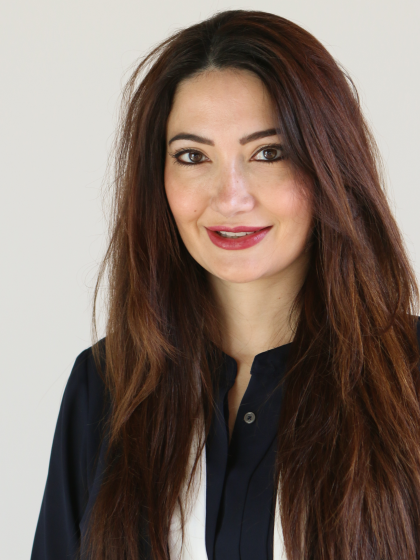 ---
I (Charmaine Borg) come from Malta. I conducted my PhD studies at the University of Groningen at the Faculty of Behavioural & Social Sciences and at the faculty of Medical Sciences. My PhD project started in October, 2008 and was conducted under the main supervision of Prof. dr. Peter de Jong, Prof. dr. Willibrord Weijmar Schulz and Dr Janniko Georgiadis.
My core areas of interest include sexual dysfunctions, sexual arousal and negative emotions (particularly disgust). I have used a number of different measures to test hypothesis surrounding these topics, namely, psychophysiology (EMG, fMRI), behavioural tasks, reaction time tasks, and diary studies, among other measures. Currently, I am in the role of assistant professor at the same university.
The public defense of the doctorate thesis took place on the 9th of December, 2013. Thesis title: Sex, disgust, and penetration disorders, ISBN: 978-90-8891-717-2. I can provide an e-version of the thesis at your request
NOTE: For recent publications please go to the heading menu 'research' on the left side of the screen
Academic Experience
I have earned my MSc in Psychiatry and Mental Health Studies at the Institute of Psychiatry, King's College London on January 2009. The title of my MSc thesis is "Magnetic Resonance Imaging study of the putamen in twins concordant or discordant for schizophrenia" conducted under the supervision of Prof. dr. Ulrich Ettinger and Prof. dr. Marco Picchioni. My majors were in cognitive behaviour therapy and women's mental health.
Moreover, I have conducted my BSc (Hons) in Mental Health Studies at the
University of Malta
in 2002. This was a 3 year course carried out in parallel to my full-time job (see below). I also completed a higher diploma, 4 years full-time course with the University of Malta. For my BSc thesis, I was inspired by (late) supervisor Prof. dr.
Alfred Cuschieri (Geneticist)
and Mr.
Martin Ward
, who both helped me in generating an interesting research question and in conducting my study in a well needed area. My BSc (hons.) thesis investigated the Educational Needs of Relatives Caring for Patients with Huntington's disease. In this dissertation, five focus groups were used augmented with questionnaires that we designed and administered in two international Huntington's disease conferences (Manchester and Madrid).
Following my first degree, I completed a 1 year - distance learning course in Integrative Counselling and Psychotherapy with
CPPD London
. In this year I developed further my self-awareness, both within the group and also in my work at the Short Stay Psychiatric Unit
Clinical Research Activities and Internships
July & August, 2000 - An internship in Nottingham, Queens Medical Center University Hospital - Acute Psychiatric Units and Community Care
March & April, 2006 - An internship in Oxfordshire and Buckinghamshire Mental Health Services - Community Services and In-patient care
October 2015 - European School of Sexual Medicine [http://www.essm.org/education-certifications/essm-school-of-sexual-medicine/], Budapest, Hungary.
February 2016 - European Certified Psycho-Sexologist by the European Society of Sexual Medicine (ESSM) & the European Federation of Sexology (EFS) [http://www.essm.org/filestore/Bilder/user_upload/pdf/certifications_lists/ECPS_2016.pdf]
November 2022 - Advanced Sexual Medicine Training by the European Society of Sexual Medicine (ESSM) & the European Federation of Sexology (EFS)
Awards
March 2006 - Leonardo da vinci Project, Internship in Psychiatric & Mental Health Services in Oxford, UK.
July 2007 - Maltese Government, Health Department for a Masters degree in UK (52,000 Euros)
August 2008 - Maltese Government Scholarship Scheme, Education Department for the PhD studies MGSS - Grant number MGSS PHD 2008-12 (30,000 Euros)
October 2008 - Bursaal position at the University of Groningen in the department of Experimental Psychotherapy and Psychopathology
January 2011 - 2nd Prize for an oral presentation at the WVSD held in Ede, NL. (500 Euros).
April 2011 - Experimental Psychopathology (EPP) Article Award Academic Year 2009/2010, Utrecht, NL (450 Euros) - Scientific Director Prof. dr. Arnoud Arntz
September 2012 - Scholarship for post-doc fellowship with CRIPCAS, an interdisciplinary research centre on intimate relationship problems and sexual abuse at the University of Montreal, under the main supervision of Dr Sophie Bergeron and Professor dr Mireille Cyr (declined)
May-June 2014 - Marco-Polo Grant to visit Mc Gill University in Montreal and Vanderbilt Univeristy in Nashville
Professional MemberShips
1. International Academy of Sex Research (IASR) - Since 2010.
2. World Association of Sexual Health (WAS) – Since 2011.
3. European Society for Sexual Medicine (ESSM) - Since 2010.
4. International Society for Sexual Medicine (ISSM) - Since 2011
5. Senior Member of the Dutch-Flemish Postgrad School 'Experimental Psychopathology (EPP) - since 2014
6. European Federation of Sexology (EFS) - Since 2022
Clinical Experience (2002 - 2007)
I worked for 5 years in the only
Short Stay Psychiatric Unit in Malta
, where I had the opportunity to deal with several clients suffering from the long spectrum of psychiatric disorders and mental health issues, from psychosis to mild anxieties and phobias.
| | |
| --- | --- |
| Last modified: | 19 August 2022 12.33 p.m. |