5 vragen aan de opdrachtgever
Nadia Eversteijn, eindredacteur meertalig.nl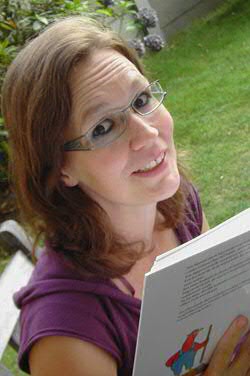 Waarom is meertalig.nl geïnteresseerd in taalportretten?
Van het nut van een wereldtaal als het Engels of Mandarijn Chinees is iedereen wel doordrongen. Maar meertaligheid heeft zo veel meer gezichten. Veel mensen die in Nederland wonen hebben echt niet elke dag Engels nodig, terwijl het Hindi, Zuid-Afrikaans of Hongaars wel een essentiële rol in hun dagelijks leven speelt. En al die mensen hebben continu te maken met de vele voordelen maar ook uitdagingen die meertaligheid hen biedt. De taalportretten brengen de weerbarstige praktijk van meertaligheid in al zijn diversiteit in beeld. Niet alleen in figuurlijke zin maar ook heel letterlijk.
Zou de rubriek "Taal van de maand" mogelijk zijn zonder de bijdragen van studenten?
Nee, dat zou volstrekt ondenkbaar zijn. De studenten hebben zelf hun respondenten gezocht. Vervolgens zijn de interviews met heel veel tijd, aandacht en toewijding bedacht, gehouden en uitgewerkt. Ga daar als redacteur zelf maar eens aan staan…
Hoe heeft u de samenwerking ervaren?
Die heeft me heel veel positieve energie gegeven. Tijdens het jaarlijkse DRONGO-festival kwamen studenten van de RUG ook interviews ter plaatse houden in de Openbare Bibliotheek van Amsterdam. Hun stand was toen versierd met vlaggetjes die symbool stonden voor elke taal waarover ze reeds iemand hadden geïnterviewd. Van zoveel enthousiasme kun je toch alleen maar heel blij worden?
Wat vond u het leukst?
Moet ik echt kiezen? Het zijn vaak kleine dingetjes in de interviews die me raken. Zo publiceerde ik in januari 2015 een interview met een student uit Duitsland, een boom van een kerel zo te zien op de foto. Die vertelt dan dat hij Sehnsucht en Eichhörnchen zulke mooie woorden vindt in zijn moedertaal. Het zijn dat soort details dat me vertedert; het doet je begrijpen waarom mensen er goed aan doen van generatie op generatie hun moedertaal over te dragen. Als Nederlander moet je er toch ook niet aan denken om je kind geen 'Slaap kindje slaap' te leren, of een woord als knuffel of frietjes?
Komt er een vervolg?
Ja! Tot mijn blijdschap gaan ook het komende semester weer studenten met de opdracht 'Maak een taalportret' aan de slag. Dus de komende jaren kunnen onze website-bezoekers nog wel van deze rubriek blijven genieten.
| | |
| --- | --- |
| Laatst gewijzigd: | 12 december 2016 10:33 |