Taal der muziek? Weet wat u zingt!
In dit project buigen studenten Europese talen zich op het verzoek van koren over liedteksten in verschillende talen die op hun repertoire staan. Koren zingen namelijk vaak in diverse talen, maar hebben niet altijd de tijd om zich echt te verdiepen in de teksten. De muziek instuderen is namelijk vaak een uitdaging op zich. Terwijl studenten zich juist specialiseren in tekst en taal, maar zich niet realiseren hoe muzikaal taal kan zijn. Daarom is de combinatie van koor en student voor beide partijen waardevol.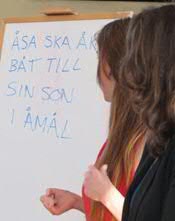 Hoe werkt dat?
Koren melden hun liederen in het najaar aan. Studenten van de minor Vertaalwetenschap gaan daar dan binnen een college mee aan de slag. De studenten maken een vertaling van de tekst en zoeken interessante achtergronden die de koren helpen om beter te begrijpen wat ze zingen. Ook kunnen de studenten het koor helpen de uitspraak te verbeteren. In overleg met de dirigent wordt een korte workshop voorbereid die tijdens een koorrepetitie of tijdens een korendag uitgevoerd wordt. Zo verdiepen de studenten zich ook in wat het betekent om de tekst te zingen en hoe de betekenis van een tekst ondersteunt kan worden in de melodie of de wijze van uitvoeren.
In het voorjaar van 2015 hebben we met de koren Femmes majeures, Kooriander, Focus Vocaal en De zingerij de eerste workshops uitgeprobeerd op het jubileum van Femmes majeures. En met succes!
Vervolg in 2016 en 2017
In 2016 besloot de wetenschapswinkel samen met docent Maaike Dicke dit project een vervolg te geven en jaarlijks te laten terugkeren. De "weet wat u zingt"-service werd geboren. Diverse koren brachten in 2016 en 2017 hun liederen in het Engels, Duits, Frans, Spaans, Italiaans, Zweeds, Russisch en Latijn in. Dat leidde tot leuke workshops op repetitie-avonden. In het voorjaar van 2017 zijn Aniek van Balen en Jadzia Seeberger bezig met 4 Engelse liederen van Vocaal ensemble Ten toon.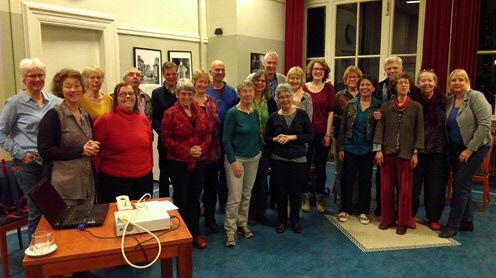 Ook meedoen?
U vindt meer informatie en een aanmeldformulier bij de openstaande projecten: Taal der muziek
| | |
| --- | --- |
| Laatst gewijzigd: | 05 april 2019 12:10 |