In de schaduw van de bevrijding - 'Fout'
Stage of scriptie bij het Oorlogs- en Verzetscentrum Groningen (OVCG)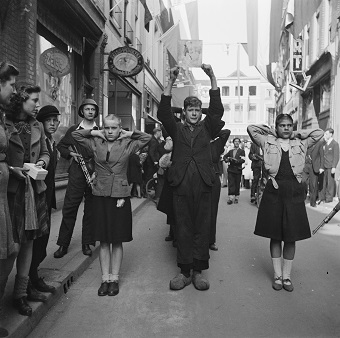 Op 18 april bevrijden de Canadezen de stad Groningen. Feest, voor de Groningers. Maar niet voor allemaal. Groningen is nog niet half bevrijd of de wraakacties volgen. Moffenmeiden, Groningse vrouwen die met Duitse mannen gingen, worden op straat kaalgeschoren. Honderden NSB'ers worden tewerkgesteld in de polder van Westernieland en het verzet rekent genadeloos af met oud-leden van de Sicherheitsdienst. Ook communisten komen er niet goed vanaf. Nabestaanden van communistische verzetslieden krijgen geen uitkering van stichting 40-45, omdat zij geen 'vaderlandslievend' verzet pleegden.
De bevrijding betekende dus niet voor elke Groninger meteen feest. Wat gebeurde er in de schaduw van de bevrijding? Er is nog niet veel bekend over dit thema, juist omdat het onderwerp zo pijnlijk was (en nog steeds is). Daarom is het Oorlogs- en Verzetscentrum Groningen per 1 februari op zoek naar BA-student die hier zijn/haar scriptie aan wijden, of een MA-student die in een stage een verkennend onderzoek kan opzetten over dit onderwerp.
Wat ga je doen?
Je doet onderzoek naar de gevolgen van de bevrijding voor de (familie van) NSB'ers in Groningen
Je onderzoekt ook wat de gevolgen waren voor andere groepen, zoals communisten
Je verzamelt archiefmateriaal, foto's en filmmateriaal ter ondersteuning van je verhaal
Je verwerkt deze informatie tot een aantal verhalen
Je probeert, samen met de coördinator van het OVCG, ooggetuigen te spreken (afhankelijk van de situatie)
Je draait mee in de opzet van een tentoonstelling over dit onderwerp
Wie zoeken wij?
Een BA- of MA-student geschiedenis, het liefst die affiniteit heeft of bekend is met de (Groningse) oorlogsgeschiedenis
Je kunt goed omgaan met gevoelige onderwerpen
Je hebt een vlotte pen en een goede verhalende schrijfstijl
Je hebt al eerder archiefonderzoek gedaan of weet je weg in de archieven
Je hebt ervaring met het afnemen van interviews
Wat bieden wij je? (bij een stage)
Een inspirerende werkomgeving bij het Oorlogs- en Verzetscentrum Groningen en in het pand van de Groninger Archieven
Een goede werksfeer
Flexibiliteit wat betreft de werkdagen en –tijden
Onkostenvergoeding
| | |
| --- | --- |
| Laatst gewijzigd: | 05 april 2019 12:10 |