The art of effective feedback
Research into effective feedback on learning a foreign language
Feedback plays an important role in all situations where people are learning something. It doesn't matter if you are a teacher, a fellow student or a colleague, everyone can help someone else to improve his/her performances or reach a goal. But giving and receiving feedback can also be hard and feel like critisising rather than helping someone. An introduction into the art of effective feedback.
University teachers in French asked our Science Shop to find out how they could improve feedback in their lectures and workshops. Jorieke Lindner, master student in Communication- and Information Sciences performed this research. She combined a theoretical research into the literature on effective feedback with a practical component within the lectures and workshops of these teachers in 2017. Jorieke analysed feedback by the teachers but also made a plan to involve more peer feedback (students giving each other feedback). Here you can find more information on effective feedback, a peerfeedback training and peer feedback forms that you can use in various situations.
What is effective feedback?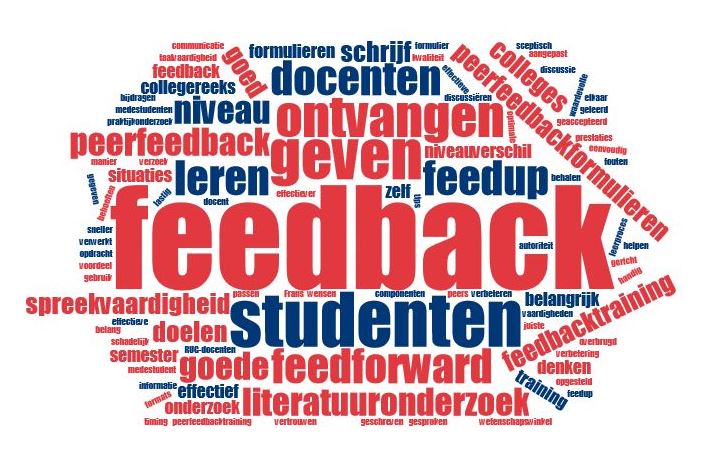 A student normally receives feedback from a teacher. This kind of feedback is often easily accepted, because the student regards the teacher as an authority on the subject. Of course the student should be open to feedback at the moment it is given: a good timing is important, but also the way the feedback is presented matters.
Additionally the student could receive feedback from his/her peers (fellow student on the same level). For peer feedback to be successful, firstly the students should learn to rely on the fact that peer feedback can be valuable. The advantage of feedback from peers is that it is open to discussion because of the lack of autority. Discussion can make feedback more effective.
Effective feedback is much more than stressing mistakes. It is focussed on the learning process, therefore it explicitates the goals a student should be aiming for and stimulates him/her to reflect on the way to achieve them. That is why the terms feedup and feedforward are also used. Feedup explicitly compares the current level to the goalss and feedforward explains how you could reach these goals.
Feedback training
It can be difficult for students to give feedback and in some cases receiving feedback can even be demotivating and harming the learning process. Therefore it is a good idea to prepare them how to give and receive feedback in an effective way. We have set up a feedback training to use at the start of a course in which we have incorporated discussion assignments and the most important theoretical information. These trainings are in English and Dutch.
Peer feedback forms
The use of feedback forms can facilitate peer feedback. The structure of the form forces the student to balance the feedback (with compliments and points to improve) and include feed up and feed forward. Here you can find two general formats for oral and written texts in which the teacher can incorporate the goals of the assignment and course.
| | |
| --- | --- |
| Last modified: | 06 August 2021 2.55 p.m. |