Duurzame organisatieverandering door leergeschiedenissen
Als organisatie kun je pas echt duurzaam veranderen als je durft te reflecteren op je eigen verleden. Dat is de kerngedachte van de methode leergeschiedenis aan de Rijksuniversiteit Groningen. Sinds 2004 voeren RUG-studenten leergeschiedenissen uit, bij landelijke, regionale en lokale organisaties.
Leergeschiedenis: wat is het?
In het Masterprogramma History Today krijgen studenten de mogelijkheid om hun scriptie te schrijven in de vorm van een zogenoemde 'leergeschiedenis'. Een leergeschiedenis is een methodiek ontwikkeld aan het Massachusetts Institute of Technology (MIT). Via goed voorbereide interviews laat de onderzoeker (oud) medewerkers van een organisatie reflecteren op het verleden. Door deze reflectie en het uitwisselen van ervaringen, kan er een nieuw perspectief gevormd worden op het verleden en ook een heldere gezamenlijke kijk op de toekomst. De onderzoeker doet dat altijd in co-creatie met de organisatie: vanaf het begin werken organisatie en onderzoekers samen, wat al een op zichzelf staande interventie in de organisatie is.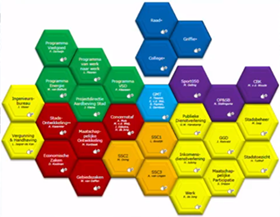 Studentenonderzoek met maatschappelijke impact
De studenten doen, na een gedegen theoretische en praktische opleiding, een zogenaamde korte onderzoeksstage. Dit houdt in dat ze gezamenlijk (in tweetallen) een onderzoeksplan voor een organisatie schrijven en uitvoeren. Veel van deze leergeschiedenissen worden in de organisaties gepresenteerd, vaak gevolgd door dialogen, veranderprocessen, of in sommige zelfs tot een grote reorganisatie. Enkele organisaties waar de RUG mee heeft samengewerkt zijn de Belastingdienst en het Ministerie van Financiën, maar ook meer lokale organisaties zoals de Gemeente Groningen.
Wetenschapswinkel en leergeschiedenis
De Wetenschapswinkel Taal, Cultuur en Communicatie verbindt vragen van non-profitorganisaties aan onderzoek door studenten. Ben je als student geïnteresseerd en wil je met ons van gedachten wisselen? Laat het ons weten! Of heeft uw organisatie belang bij een leergeschiedenis?
Neem dan contact op met tawi rug.nl of r.p.g.peters rug.nl
Meer informatie voor studenten:
Lees hier het verhaal van Anna Silvius, die een leergeschiedenis uitvoerde bij de gemeente Heerenveen:
Lees hier een artikel van de Universiteitskrant over leergeschiedenissen:
Meer informatie voor uw organisatie:
Lees hier een uitgebreide brochure over wat leergeschiedenissen voor uw organisatie kunnen betekenen
Meer geïnteresseerd in theorie en voorbeelden van leergeschiedenissen? Bezoek dan de webpagina van de Learning Histories Conference.
| | |
| --- | --- |
| Laatst gewijzigd: | 06 augustus 2021 14:55 |