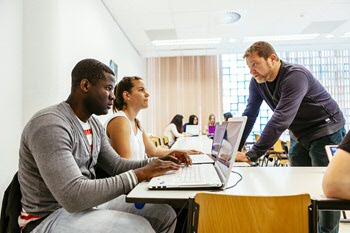 Sinds 1 maart 2022 is het mogelijk om STAP-budget aan te vragen bij de Rijksoverheid. STAP staat voor Stimulering Arbeidsmarkt Positie en vervangt de Regeling aftrek studiekosten van de Belastingdienst. STAP-subsidie kan door werkenden en werkzoekenden eens per kalenderjaar worden aangevraagd en bedraagt maximaal € 1.000. Het kan worden ingezet voor een training, cursus of een opleiding. De aanvraag loopt via het UWV, middels het speciaal daarvoor opgezette STAP-portaal. Voor de subsidieaanvraag wordt er gewerkt met aanvraagtijdvakken. Indien het budget van een aanvraagtijdvak op is, dan kun je bij start van het volgende aanvraagtijdvak opnieuw je aanvraag doen. Je moet je STAP-budget uiterlijk een maand voor de startdatum van de cursus of training hebben aangevraagd en je cursus of training moet uiterlijk drie maanden na het betreffende aanvraagtijdvak starten.
De Aanvraagtijdvakken zijn:
2 mei 2022 t/m 30 juni 2022
De opleiding/cursus dient uiterlijk in september 2022 te starten.
1 juli 2022 t/m 31 augustus 2022
De opleiding/cursus dient uiterlijk in november 2022 te starten.
1 september 2022 t/m 31 oktober 2022
De opleiding/cursus dient uiterlijk in januari 2023 te starten.
1 november 2022 t/m 31 december 2022
De opleiding/cursus dient uiterlijk in maart 2023 te starten.
1 januari 2023 t/m 28 februari 2023
De opleiding/cursus dient uiterlijk in mei 2023 te starten.
1 maart 2023 t/m 30 april 2023
De opleiding/cursus dient uiterlijk in juli 2023 te starten.
Je aanvraag moet wel aan een aantal voorwaarden voldoen:
De cursus, training of opleiding moet zijn opgenomen in het STAP-scholingsregister. In dit register staat al het aanbod waarbij STAP-subsidie ingezet kan worden.
Je bent tenminste 18 jaar oud en hebt de AOW-gerechtigde leeftijd nog niet bereikt.
Je bent in de periode van 2 jaar en 3 maanden tot 3 maanden voorafgaand aan de subsidieaanvraag voor ten minste 6 maanden in Nederland verzekerd voor de volksverzekeringen.
Als je STAP budget voor een door het ministerie van OCW erkende voltijdopleiding aanvraagt, moet je 30 jaar of ouder zijn, om mogelijk samenvallen met studiefinanciering te voorkomen.
Na je deelname aan de opleiding, cursus of training stuurt de RUG een deelnamebewijs op naar het UWV. Wanneer je niet of niet voldoende hebt deelgenomen, trekt het UWV je subsidie in en moet je het cursus- of collegegeld alsnog zelf betalen.
STAP-subsidie wordt, na goedkeuring van het UWV, uitgekeerd aan de opleider in plaats van de student. Dit zorgt ervoor dat wij onze inschrijfprocedures anders moeten inrichten. Deze aanpassingen zijn nog niet afgerond. Er is op dit moment dus nog geen onderwijsaanbod van de Rijksuniversiteit Groningen waarvoor STAP-subsidie ingezet kan worden. Zodra het mogelijk is om STAP-subsidie wel in te zetten, zullen wij communiceren wat je moet doen om er gebruik van te kunnen maken. Meer informatie over het STAP-budget kun je vinden op de infopagina van de Rijksoverheid. Hier staan onder andere veelgestelde vragen en een stappenplan voor de aanvraag.
| | |
| --- | --- |
| Laatst gewijzigd: | 27 mei 2022 09:49 |