Portable 3D System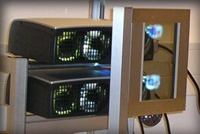 A portable 3D system is available for very large audiences, on-site presentations or other situations where a customer cannot come to our
Reality Centre
. It consists of a powerful computer (with special graphics card), a projection screen and a special projector configuration.
The portable 3D system was co-financed by the Scientific Visualization and Computer Graphics research group, one of the participants in the Groningen Visualisation Centre (GVC).
Projection
Unlike the Reality Cube and Reality Theatre, the portable 3D system uses so-called passive stereo to achieve the 3D effect. This works by using two projectors (one for each eye) with differently polarizing filters in front of the lenses. The user wears specially polarized glasses, and as a result each eye sees only the images coming from the corresponding projector.
Front or back
Two types of projection can be used: front projection (as in a cinema) or back projection. Back projection gives the best results but requires a lot of space behind the screen. Front projection saves space but viewers standing near the screen will cast shadows on it. Therefore, back projection is preferred, provided that sufficient space is available.
Scalability
Thanks to the passive stereo technology, the portable 3D system uses simple plastic glasses, or even cheaper disposable paper glasses. This makes the portable 3D system very suitable for exhibitions, conferences, museum exhibits, etc. The portable 3D system can serve very large audiences. Our current record is around 500 people at the 2005 New Year's party organized by Groningen Seaports. For these purposes, a larger screen (e.g. 4m x 3m) and more powerful projectors can be arranged.
Upgrade: wide screen, high definition
As of January 2008, the portable 3D system has been upgraded to a widescreen (2.67m x 1.5m) back-projection screen and 2 high-definition (1280x768) projectors. The widescreen format makes it even more suitable for landscape and architectural visualizations 'on the road', without the need for more vertical space.
Bigger, better, more impressive
| | |
| --- | --- |
| Last modified: | 19 January 2017 3.57 p.m. |