50 years of Spatial Planning – a summary
| | |
| --- | --- |
| Date: | 19 July 2018 |
| Author: | Imre Veen |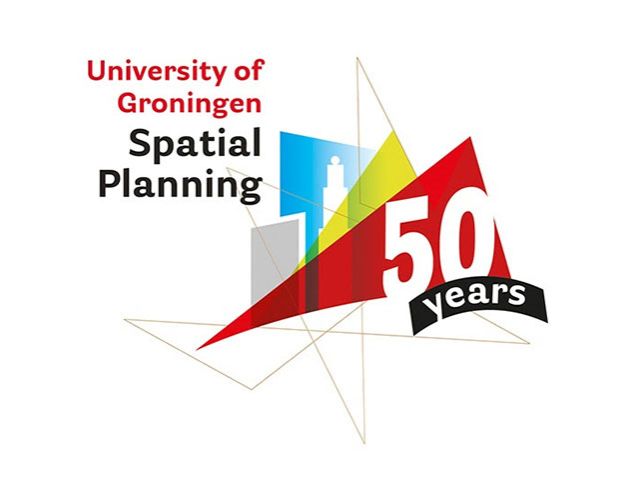 50 years ago, on the 2nd of July 1968, prof. G.J. van den Berg was appointed at the RU Groningen to lecture 'Planning & Demography'. Van den Berg's immediate interest was Spatial Planning. His appointment marks the beginning of fifty years of development, which resulted in three separate programmes in Spatial Planning; the bachelor in Spatial Planning and Design and the master programmes Environmental and Infrastructure Planning and Socio-Spatial Planning. At this moment there are about 3 to 4 hundred students in Spatial Planning in Groningen, in size the largest group of Planning students in the Netherlands.
To commemorate 50 years of Spatial Planning at the University of Groningen, a festive seminar took place in Groningen on July 2nd, 2018, led by professor Gert de Roo, chair of the department of Spatial Planning and Environment.
An audience of students, alumni, (former) staff members spent the afternoon listening to stories about the past, the present and future of planning. A trip down memory lane and future perspective, because planning is still very much alive in Groningen.
You can watch all the speeches and presentations in this extensive video documentary of the Planning day. View the table of content on youtube to skip to a certain speech or presentation.
Round 1: 1968 – 1983 G.J. van den Berg era
Politician Jacques Wallage and professor by special appointment of Integration and Public Administration at the University of Groningen, was one of the first employees of G.J. van den Berg. In the eyes of prof. Van den Berg, planning was a practical discipline. One that deserved a theoretical foundation, but that you couldn't separate from administrative and social realities. He also used this modern approach in finding internships and subjects which taught students to think from the point of view of the public. (Download Jacques Wallage's speech (Dutch only))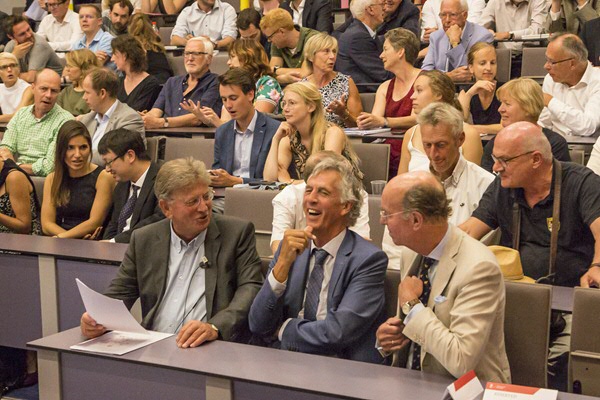 After Wallage's story, prof. De Roo asks how many of the attending students are currently politically active. The number – four – is higher than he expected.
Bas Eenhoorn, Mayor of Amstelveen, is a former member of the Foundation for the Promotion of Spatial Sciences (Stichting der Bevordering van de Ruimtelijke Wetenschappen). These days he is an honorary lecturer at the faculty. He used to travel with prof. Van den Berg to the KNAG (Royal Dutch Geography Society) meetings in Utrecht by car each month. To him, the time spent while driving seemed like private lectures.
Also present today: Ankie Alkema – the first secretary of the Planning department, Caren Voogd – wife of the late professor Henk Voogd, and Angela Ashworth – wife of the late professor Greg Ashworth.
Round 2: 1985 – 2007 Henk Voogd era
Emeritus professor Paul Ike shares his stories about professor Henk Voogd, who was appointed in Groningen two years after professor Van den Berg retired. Voogd came from the university in Delft, thus bringing a more technical approach to planning, and Paul Ike came along with him. As the dean of the newly formed Faculty of Spatial Sciences, Voogd stimulated the faculty's research programme, aimed directly at the needs of society. He was a man of many initiatives, constantly developing the Planning programmes and courses, and initiating Double Degree programmes. Believing in giving young people a good opportunity, he hired a lot of junior researchers, some of which are still at the faculty today, like professors Gert de Roo and Jos Arts. Henk Voogd was a man of action, and would figure out later if he was following the rules. (Download Paul Ike's presentation (Dutch only))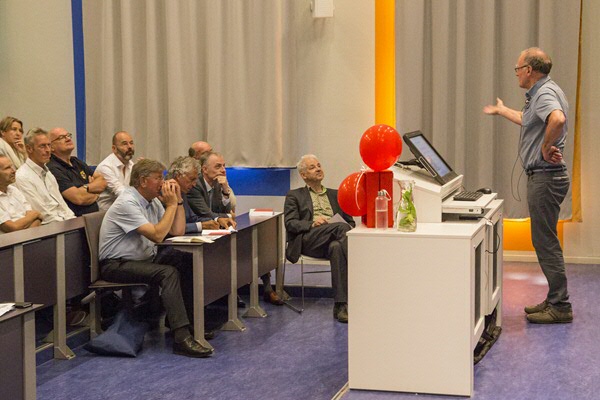 Pitches about 'life after Planning in Groningen'
Dr. Marieke Seip, Director of Policy & Governance municipality of Ede, was a PhD researcher in Groningen from 1994 to 1998. She says that the focus has shifted from what to how when it comes to planning.
Professor Johan Woltjer, University of Westminster and former chair of the Planning department in Groningen shares seven lessons he learned from Henk Voogd:
An open view and innovation
Basic lessons
Focus/rationality/quality
Socially involved
Publish and project
International positioning
Making combinations
Hermen Borst, Director Delta Commissioner Deltacommissaris, talks about his experiences working in the government.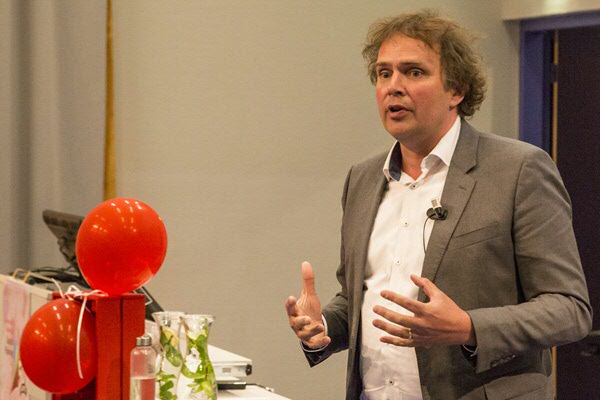 Round three – the lilac era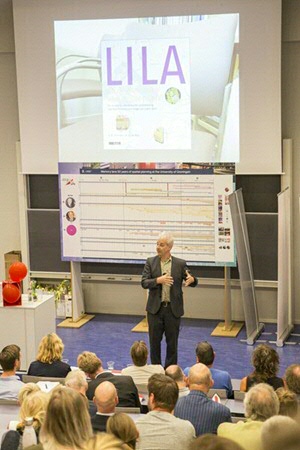 Professor Gert de Roo: "The colour lilac plays a significant role in the daily life of planners in Groningen. Not only is LILA (Dutch for lilac) the title of one of my books, it is also the colour of the floors, woodwork and chairs of the Planning department at the faculty."
Dr. Terry van Dijk is not present today, but has recorded a video message in which he redefines 'design' as essential to planning. He suggests that when creating better places, you dream them first, then trim your ideas down and explore them. (View Terry's video message)
Next up is professor Ina Horlings, who talks about socio-spatial planning being back in Groningen, and being more relevant than ever. The human factor in spatial planning is very important these days. She introduces the Radius project, in which art and theater are used to bridge the gap between science and society. Gea Smidt and Sjoerd Wagenaar from the Radius project share their experiences.
Several people in the audience share their planning-related stories:
Myrthe Leystra, Planning alumnus, now working at Rijkswaterstaat, explains that planners are the people that bridge the gap between theory and practice. Joey Koning, Research Master in Spatial Sciences student, is taking the Planning track within the Research Master and has found out how interesting and fun planning can be. Guus Brinkhof: Ekistics is the Groninger Dispute of Planners, established in 2008 by three Planning students. The self-named 'planning nerds' gather once a month to discuss planning. In 2010, 2012 and 2017 when national elections were held, Ekistics organized a spatial election debate.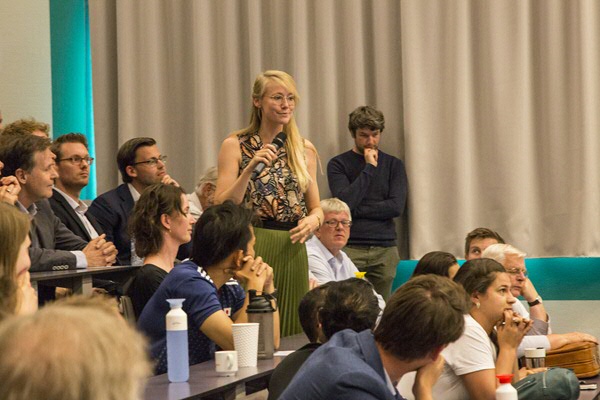 Robin Neef, PhD researcher and Planning alumnus, shares the story of SAC, the Student Advisory Committee, formed in 2013. At SAC, enthusiastic and ambitions students do essential consultancy work on spatial issues. Prof.dr.dr. Claudia Yamu, researcher and lecturer at the Faculty, shows us CASUS, the Centre for Advanced Studies in Urban Science and Design that enhances knowledge using digital technologies and applies it to various topics such as future sustainable cities and regions, smart cities, cities and complex adaptive systems. CASUS has recently opened a VR-lab at the Faculty where students can work with Mercator City. Dr. Barend Wind, also from the Faculty, tells us about the Global Course on Institutional Design and Spatial Planning, an online course offered jointly with universities in Seattle, Newcastle, Beijing and Tokyo. Dr. Ward Rauws, lecturer and researcher at FSS talks about AESOP, the Association of European Schools of Planning, established in 1987. AESOP's Thematic Group on Planning and Complexity has a lot of impact in the planning world. 'Complexiteit' is the second theme of the yearly planning conference and a group of innovating and prominent planners gathers every year at activities organised by this Thematic Group. (Watch the video of planners from all over the world sharing the experiences they have with the planners from Groningen)
Dr. Jochem de Vries, University of Amsterdam, speaks about how planning at Groningen is seen by our academic partners. He emphasizes on making planning work. Because of Groningen's geographical location and the distance from the Randstad, there is a kind of fear of being left out. This makes the planners in Groningen forerunner in the discipline; we have to show the rest of the country that we matter. Now we have to maintain the planning discipline. Internationalisation has made it stronger, but globalisation and liberalisation have changed the fundamentals of planning.
Round four – the future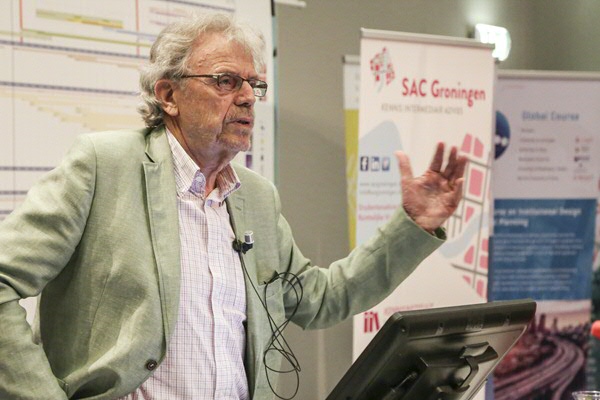 Professor Andreas Faludi is Honorary doctor at the Faculty of Spatial Sciences. His ties to Groningen go back to 1977, when he met fellow professor in Planning, G.J. van den Berg. He already knew Henk Voogd from his time in Delft and met him on numerous occasions until his passing. Faludi: "I admired how Henk put Groningen on the map, with international contacts, local research and technical planning." Faludi met Gert de Roo when De Roo was president of AESOP, of which Faludi was one of the founders. The honorary doctorate in 2014, received because of his involvement in planning theory, was a complete surprise. His vision of the future: complexity can only increase. Until one day we wake up and realise: a revolution has taken place in our way of thinking.
Professor Jos Arts of the Spatial Planning department in Groningen presents a carousel of future initiatives with the spatial planners at the University of Groningen. Among them Professor Qin Bo, Renmin University of China, who talks why he wanted to set up the Double Degree on Urban Governance within a Global Environment with the planners in Groningen: "Planning is more than physical design. It includes social aspects and we were looking for an institution that considers that to be important. We found that here in Groningen." Alfred Kazemier, Director Spatial Policy & Design, Groningen Municipal Planning Department, is looking for collaboration with the planning department on using initiatives like the CASUS VR-lab to see how new tall buildings would fit in the existing area. Rijkswaterstaat, the Ministry of Infrastructure and Water Management, is working with the Groningen Planning department on research projects with staff, PhDs and students and is looking forward to continuing this collaboration.
The last speaker of the day is Groningen Planning alumnus and Director-General Mobility at the Dutch Ministry of Infrastructure and Water Management, Mark Frequin, who stresses the importance of learning to understand the complexity of mobility. His advice to the planners in Groningen: you guys are good, show the rest of the Netherlands and the world how good so they will reach out to you.
Thank you for celebrating 50 years of Spatial Planning in Groningen with us!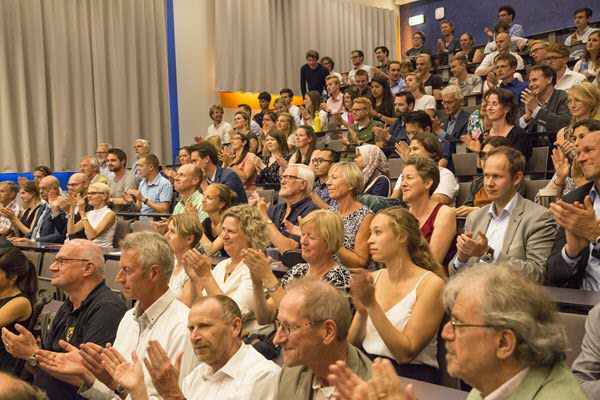 Words: Imre Veen
Pictures: Johan Zwart
Comments