Respiratory chain supercomplexes
Mitochondria produce most of the ATP consumed by cells through the respiratory chain in their inner membrane. This process involves protein complexes assembled into larger structures, the respiratory supercomplexes (SCs). Cardiolipin (CL), the mitochondrial signature phospholipid, is crucial for the structural and the functional integrity of these SCs, but it is yet unclear by which mechanism it operates.
We investigate the role of CL in the formation of supercomplexes by means of large scale multiscale modeling. We discovered that CLs bind to the respiratory chain complexes at specific sites at the membrane exposed surface of these proteins. These CL binding sites may provide protons to the uptake pathways, and have a steering role in the formation of supercomplexes.
[1] C. Arnarez, J.P. Mazat, J. Elezgaray, S.J. Marrink, X. Periole. Evidence for cardiolipin binding sites on the membrane-exposed surface of the cytochrome bc1. JACS, 135:3112–3120, 2013.
[2] C. Arnarez, S.J. Marrink, X. Periole. Identification of cardiolipin binding sites on cytochrome c oxidase at the entrance of proton channels. Sci. Rep., 3:1263, 2013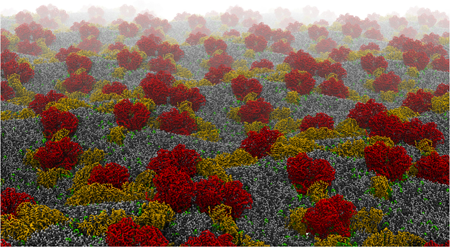 | | |
| --- | --- |
| Last modified: | 25 June 2015 01.55 a.m. |