Gating of mechanosensitive channels
Mechanosensitive channels are membrane proteins that gate in response to mechanical stress/tension. The bacterial mechanosensitive channels of large conductance (MscL) serve as a last resort emergency release valve, protecting bacteria from lysis upon acute osmotic downshock. With induced membrane tension MscL opens a large pore, releasing ions and small solutes, relieving the cytoplasm of osmotic tension. Using the Martini CG FF we can gate MscL in an unbiased way by applying membrane tension [1-4]. These studies confirmed the iris-like opening mechanism of the channel and provided valuable insight into how changes in protein shape influence its preferred conformational equilibrium. Ongoing work in the Molecular Dynamics group has shown the reversible gating of MscL (see Figure) and demonstrates how changes in bilayer properties can influence the channel gating.
[1] S. Yefimov, E. van der Giessen, P.R. Onck, S.J. Marrink. Mechanosensitive membrane channels in action. Biophys. J., 94:2994-3002, 2008.
[2] M. Louhivuori, H.J. Risselada, E. van der Giessen, S.J. Marrink. Release of content through mechano-sensitive gates in pressurized liposomes. PNAS, 107:19856-19860, 2010.
[3] O.H.S. Ollila, M. Louhivuori, S.J. Marrink, I. Vattulainen. Protein shape change has a major effect on the gating energy of a mechanosensitive channel. Biophys. J., 100:1651-1659, 2011.
[4] H.I. Ingólfsson, C.A. Lopez, J.J. Uusitalo, D.H. de Jong, S. Gopal, X. Periole, S.J. Marrink. The power of coarse-graining in biomolecular simulations. WIREs Comput. Mol. Sci., 4:225–248, 2014.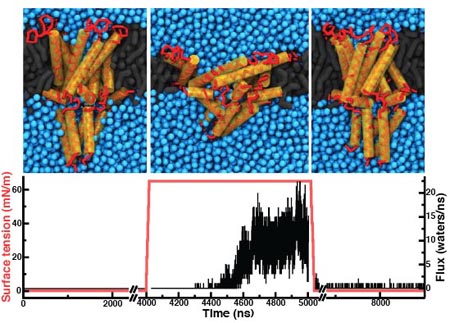 | | |
| --- | --- |
| Last modified: | 25 June 2015 01.24 a.m. |