Public events at the Blaauw Observatory
The Gratama Telescope
The Gratama Telescope is a beautiful instrument that could be used to look trough by eye. This is also a possibility for visitors! Have you never seen the craters on the Moon, the rings of planet Saturn or objects far in the universe? Then you should definitely visit us during our public evenings! The public evenings in the Blaauw Observatory are organized by the Kapteyn Institute (Faculty of Science and Engineering, University of Groningen) and SRON Netherlands Institute for Space Research.
National Stargazing Days
Every spring we participate in the National Stargazing Days and every year in October the Nacht van de Nacht. From October to March, stargazing evenings are regularly organized, depending on the weather . During these public evenings, guided tours are given at the observatory itself. Besides that, anyone can watch stars with clear weather with the Gratama Telescope and some telescopes on the roof of the observatory. Furthermore, there are astronomical activities for young and old such as crafts, quizzes and lectures, and also regularly available, the Kapteyn Mobile Planetarium. The public evenings are always accessible free of charge.
For the upcoming activities, see the agenda
. You can also stay up-to-date via our
digital newsletter
,
Facebook
and
Twitter
.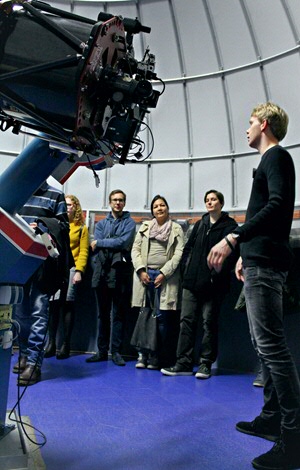 Digital
newsletter
If you want to be kept informed about the public evenings and other activities of the observatory, please leave your name and e-mail address here. We will send an e-mail stating the coming activities with some regularity. In addition, various other astronomical events in Groningen are mentioned. When a flexible stargazing evening is taking place (depending on the weather), we will let you know through this newsletter. This e-mail address will only be used for these newsletters. If you would like to unsubscribe for the newsletter, click here.
Facebook and Twitter
Follow us on Facebook and Twitter for the latest news!
Large groups
In order to make an appointment, large groups, such as primary and secondary schools, are requested to contact us by email: sterrenwacht astro.rug.nl . Having good weather would make it possible to set up a solar telescope, while having a guided tour during the day.
Accessibility
The Blaauw Observatory is located in the Bernoulliborg (Nijenborgh 9) on the Zernike Campus in the north of the city of Groningen. On the Zernike Campus the Bernoulliborg is indicated at the signs. More information about the accessibility can be found here.
| | |
| --- | --- |
| Last modified: | 03 March 2022 4.06 p.m. |