Programme National Stargazing Days 2020
Every spring, we participate in the National Stargazing Days, a weekend full of astronomical activities throughout The Netherlands. This year, the National Stargazing Days are on February 28, 29 and March 1. The Blaauw Observatory is open for the public on Friday February 28 and Saturday February 29. Entrance to the event is free, so don't hesitate to come and enjoy guided tours, planetarium shows, lectures, quizzes and even an interactive exhibition! The programme and map for this year are shown below.
Programme
Guided tours (start room 105)
The observatory will be open from 18:00 - 23:00. Even with bad weather, the observatory can be visited for a guided tour. In this case beautiful images of the universe made with the Gratama Telescope of the Blaauw Observatory are shown.
Guided tours start every half hour, with English guided tours at 20:00 and 22:00. This activity requires a ticket, you can get this at the reception desk.
Lecture hall (room 151)
Lectures, a quiz and the Astronomy News:
19:00 - Children's quiz (in Dutch)
20:00 - Lectures (in Dutch)
prof. dr. Eline Tolstoy about Galactic Paleontology on Friday
prof. dr. Rien van de Weijgaert about Betelgeuse on Saturday
21:30 - Astronomy News with Bernard Jones (in English)
Observing terrace
You may also go straight to the observing terrace, without a full guided tour. These short tours start every half hour from 19:00. Gather at the elevator to join one of these.
Kapteyn Mobile Planetarium (start opposite of room 105)
Opposite of room 105 you may join a virtual journey through the universe in the mobile planetarium. Starts every half hour. This activity requires a ticket, you can get this at the reception desk. English shows are at 19:30 and 21:30.
Space laboratory (room 165)
In our Space Laboratory you can experiment all you like. There is a demo with a trampoline, balls and marbles, which shows how gravity curves spacetime and how gravitational waves originate. Furthermore, there is a VR set up and a lot of fun arts and crafts. You can also come here to start your contribution to the exhibition 'Our Stellar Neighbourhood'
Coffee and Exhibitions (opposite of room 151)
Here you can go for a nice cup of coffee or tea, and here you will find the interactive exhibition 'Our Stellar Neighbourhood' to which everyone can contribute!
Map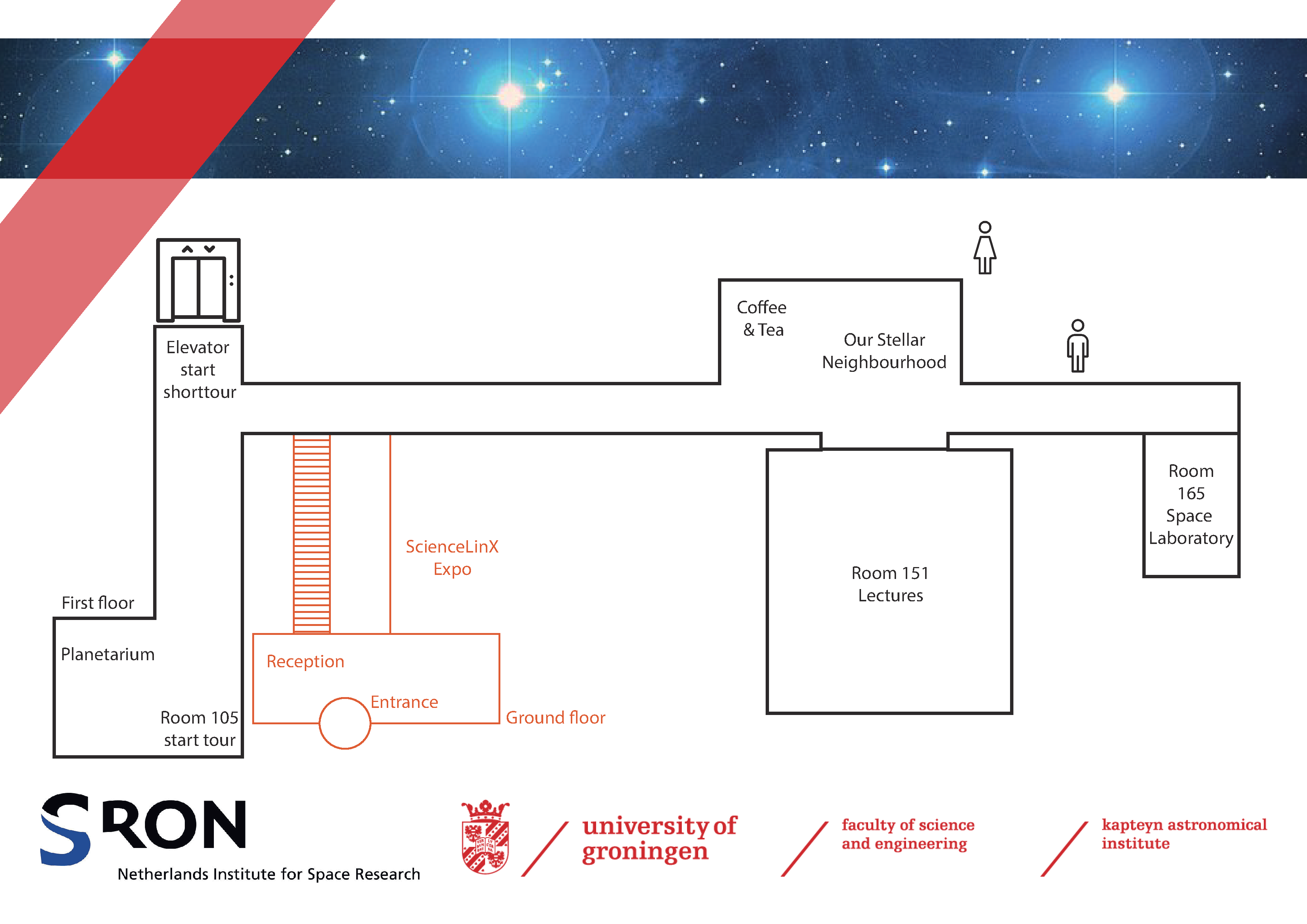 | | |
| --- | --- |
| Last modified: | 26 February 2020 2.36 p.m. |