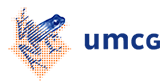 Valerie Collij
Medical internship in Departments of Genetics and Gastroenterology
Course: BSc in Medicine, University of Groningen
Department: Departments of Genetics and Gastroenterology & Hepatology
Dates of internships: Sept 2014 - March 2015
Supervisors: Prof. R.K. Weersma and Dr. E.A.M. Festen
Drug repositioning in inflammatory bowel disease based on genetic information
Summary
My scientific internship was about inflammatory bowel disease (IBD). This is a chronic inflammatory disorder of the gastrointestinal tract. Discovering new drugs for IBD is very important, because there is still no optimal medical treatment for the disease and between 35-70% of IBD patients need to undergo surgery, with potentially invalidating resections of the inflamed intestine or colon. The current limitations in our medical treatment for IBD negatively influence the daily life of IBD patients on many levels and can result in a severe decrease in quality of life.
Currently, 200 areas on the human genome have been associated with IBD. Although these findings have significantly advanced our insight into IBD biology, there has been little progress in translating this knowledge towards clinical practice, like more cost-efficient drug development.
Our aim was to use genetic knowledge to identify drugs that warrant further investigation in IBD treatment. We identified drugs that target the proteins encoded by IBD candidate genes by using the Drugbank. Promising IBD drugs were selected based on a manual literature search of all the 113 potential drugs we identified (PubMed, ClinicalTrials.gov). Of these, 14 are known IBD drugs, 48 drugs have been, or are being investigated in IBD, 19 are being used or being investigated in treating other inflammatory disorders , and 32 are new drugs being investigated and that have not yet been registered for clinical use. Incorporating this process into IBD drug development could lead to improved IBD treatment and will improve the utilisation of genetic data.
Recommendation
During my bachelor's course, I was always drawn to gastroenterology. I like the thrill of acting and thinking fast in the acute situation, but I also like to bond with patients in the chronic situation. On top of this, research in gastroenterology is very interesting, especially in combination with genetics. Now, the entire human genome can be sequenced, but we still do not know the exact pathophysiology of IBD. Translating this basic (genetic) knowledge to the clinic is something I really find interesting. Therefore, I contacted Rinse Weersma and during my scientific internship I had the opportunity to do work on this.
At the start of my scientific internship, I had absolutely no clue what everyone was talking about! All these new definitions and techniques people were working on, were totally new for me. Fortunately, everyone is very willing to help! Meetings like the weekly Journal Club, in which a new publication is presented and discussed, taught me to be critical at all times. I've learnt a lot during my scientific internship, and I know there is so much more to learn. After the scientific internship, I got the opportunity to become a PhD student working in this field. I'm very glad about this and I would recommend doing an internship at the Department of Genetics to everyone.
| | |
| --- | --- |
| Last modified: | 31 August 2016 3.45 p.m. |