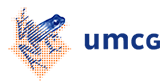 Overexpression and knockdown of PBRM1 in clear cell renal cell cancer cell lines (ccRCC)
Sigrid Pilot
From February 2012 until July 2012 I've been working under the supervision of Dr. Klaas Kok at the Department of Genetics, UMCG. I was busy with generating the overexpression and knockdown of PBRM1 in renal cell cancer cell lines. I've also been looking for mutations in the PBRM1 gene in patients with Von Hippel-Lindau (VHL) syndrome by sequencing their DNA. In addition, for a pilot experiment including the drug Roscovitine, I've been working together with a colleague on a study design to investigate the DNA damage repairing cascade. During my internship in the laboratory I learned to master lots of different methods, including cell culture, bacterial culture, isolations, FACS, sequencing, Western blotting, making competent cells, etc.
During my graduation period in the laboratory, I experienced how important good colleagues are for help when you encounter difficult situations and problems. And I realised the importance of sociability during work, and how all of this formed a nice but mainly educational period for me.
Summary (in Dutch only)
Clear cell Renal Cell Carcinoma (ccRCC) wordt gekenmerkt door het verlies van de korte arm van chromosoom 3. Op de korte arm van chromosoom 3 ligt het bekende VHL-gen, een tumorsuppressorgen. Tijdens eerdere onderzoeken zijn na sequencing van patiënten met ccRCC in 40-60% van de gevallen mutaties gevonden in het PBRM1-gen. Dit kan er op wijzen dat PBRM1 een tumorsuppressorgen is wat betrokken is bij de ontwikkeling van heldercellige niertumoren. Het doel van dit afstudeeronderzoek was het genereren van een knockdown van PBRM1 in HEK293T cellen. Deze knockdown werd gedaan door twee shRNA constructen in combinatie met een lentivirale vector. De knockdown was 40-80% op basis van het RNA niveau in de cellen. Tijdens dit onderzoek is ook geprobeerd een overexpressie van het PBRM1-gen te genereren in RCC4 cellen. Dit werd gedaan door middel van de pBABE-puro vector met het volledige coderende DNA voor BAF180. De RCC4 cellen ondervonden extreem veel stress door deze overexpressie waardoor een positieve selectie niet kon worden uitgevoerd. Met het uitvoeren van de RT-PCR zal ook RNA gemeten worden van niet getransfecteerde cellen.
De overexpressie van PBRM1 lijkt ook van invloed te zijn op het TBP huishoudgen, wel is hierbij een overexpressie van PBRM1 gemeten van 100%. Dezelfde RT-PCR data gemeten met het GAPDH huishoudgen gaf een overexpressie van PBRM1 van ongeveer 50% weer. Door de toevoeging van de drug Roscovitine aan HK2 cellen behandeld met een siRNA pool tegen PBRM1 werd er gekeken naar het effect van een knockdown van PBRM1 op de eiwitten betrokken bij DNA schade herstel. Met behulp van RT-PCR en western blotting werd gekeken of de knockdown van PBRM1 effecten heeft op p53, p21 en MDM2. Uit de RT-PCR data blijkt dat de expressie van p53 en p21 niet omhoog gaan. Over MDM2 kan geen uitspraak gedaan worden. Op eiwit niveau kan geen uitspraak worden gedaan over de expressie dit door niet functionele antilichamen. Bij 12 patiënten met het VHL-syndroom is gekeken naar mutaties in het PBRM1-gen door middel van sequencing. Er zijn een aantal nucleotide veranderingen waargenomen, deze gaven geen aminozuur verandering. Over een aantal exonen kan geen uitspraak worden gedaan door niet functionerende primers.
Sigrid Pilot, juni 2012
| | |
| --- | --- |
| Last modified: | 16 November 2012 5.02 p.m. |