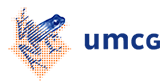 Cardiac fibrosis
Finding a gene for familial cardiac fibrosis (NHS grant 2000.130)
Summary of results
A large multi-generation family with an autosomal dominantly inherited form of cardiac fibrosis with a highly malignant clinical outcome is presented and used to identify the gene causing this disease. We consider it a hereditary form of cardiac fibrosis since it was shown that the myocardial fibrosis in this family preceded the clinical and echocardiographic signs.
Twenty-four individuals from this family were clinically evaluated and 18 of them were used for a genome wide linkage analysis giving the highest LOD score (2.6) in the region of the lamin AC (LMNA) gene. Mutation analyses of this candidate gene failed to show a point mutation. Subsequent Southern blot and multiplex ligation-dependent probe amplification analyses, however, revealed a deletion of the start-codon containing exon. The up- and downstream flanking exons proved not to be deleted.
Furthermore, we demonstrate in-vitro that the deletion results in the formation of nuclear aggregates of lamin, suggesting that the mutant allele is being transcript and that it encodes a protein with a dominant negative effect.
We, therefore, propose that the LMNA deletion causing a distinct and highly malignant cardiomyopathy where early onset cardiac fibrosis is a primary feature, secondary leading to arrhythmias and end-stage cardiac failure.
(publication in preparation).
People involved in this project
Kerstjens-Frederikse WS, Boven LG, te Meerman GJ, Department of Genetics, University Medical Centre Groningen, Groningen, the Netherlands
Tio RA, van den Berg MP & van Veldhuisen DJ, Department of Cardiology, University Medical Centre Groningen, Groningen, the Netherlands
Suurmeijer AH, Department of Pathology, University Medical Centre Groningen, Groningen, the Netherlands
van Berlo JH, Pinto YM, University Hospital Maastricht, Maastricht, the Netherlands
White S, den Dunnen JT, Department of Human and Clinical Genetics, Leiden University Medical Centre, Leiden, the Netherlands
| | |
| --- | --- |
| Last modified: | 02 March 2017 6.52 p.m. |