"Pak de golf voor je ultieme Flow-moment"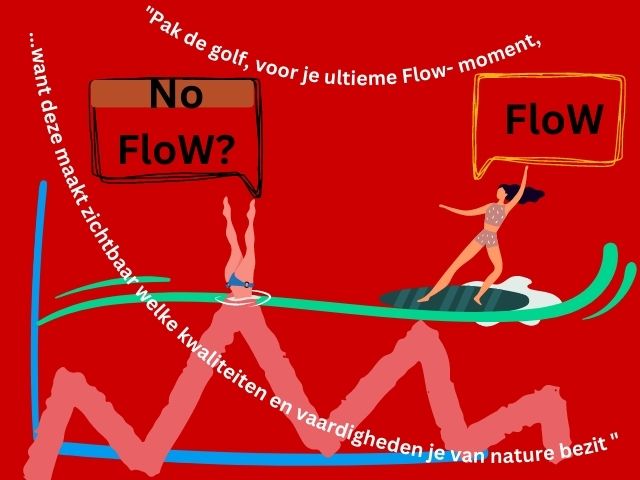 Door: dr. Kiki de Jonge
Heerlijk - de start van een knisperend fris nieuw jaar. Traditiegetrouw een mooi moment om terug te blikken op het afgelopen jaar en nieuwe plannen te maken. 'Dit jaar ga ik het echt anders doen!' Veel van onze plannen sleuvelen al ergens in de eerste maand.... Wellicht omdat onze doelen toch wat onrealistisch waren (die koekjes bleken onweerstaanbaar lekker!), omdat we doelen stelden die eigenlijk toch niet zo belangrijk voor ons bleken, of gewoon, omdat onze wensen op de een of andere manier toch verloren gingen in de waan van de dag.
Hoe kunnen we het dit jaar anders doen? Een goed begin is om doelen te stellen die daadwerkelijk van diepere betekenis voor ons zijn, doelen die ons bijvoorbeeld helpen om meer flow en (werk) geluk te ervaren. Een flow-moment is een moment waarop je voelt dat alles klopt en alles stroomt- in je werk, hobby's, sport of vrije tijd. Denk aan een surfer die het surfen goed onder de knie heeft. Ze ziet een volgende golf komen en voelt: 'Yes, deze golf is voor mij! Hij is net een beetje hoger dan ik gewend ben, maar ik kan het. Ik voel me precies genoeg uitgedaagd en ga ervoor.' Ze pakt de golf en daar is het ultieme flow-moment. Haar vaardigheden, kwaliteiten en de juiste uitdaging komen optimaal samen. ze presteert op haar best en voelt zich helemaal in haar element. Als organisatiepyscholoog en coach weet ik dat een goed startpunt voor meer flow, begint bij een reflectie op eerdere flow-momenten.
In momenten van flow presteren we op ons best, terwijl het voelt als natuurlijk en als vanzelf. Dit komt doordat we onze vaardigheden en kerknwaliteiten- kwaliteiten die we van nature hebben - als vanzelf inzetten in zulke momenten (Csikszentmihalyi, 2020; Korthagen, 2020).
Onze surfer reflecteert op haar flow-moment en realiseert zich haar kernkwaliteiten. Haar flexibiliteit, spontaniteit en vastberadenheid kwamen helemaal tot uiting. Maar ook de wijze waarop ze bewust en met oog voor detail in het moment aanwezig was versterkten haar flow. Dit zijn kerknwaliteiten die ze graag vaker benut en wil gaan inzetten bij haar doelen voor dit nieuwe jaar. Haar flow-moment geeft inzicht in wat haar betekenis en flow geeft- waar ze meer van wil beleven in dit nieuwe jaar.
Wat was in het afgelopen jaar een flow-moment voor jou? Welke kernkwaliteiten herken je? Neem een moment om hierbij stil te staan, of - nog beter – pak pen en papier en schrijf mee. Zo kun je in dit nieuwe jaar doelen stellen die écht van diepere betekenis zijn voor jou en deze flow-momenten verder uitbouwen in dit nieuwe jaar.
Tijdens het vak Werkgeluk en Leiderschap in de master Werk en Zingeving diepen we dit thema verder uit en leer je hoe je met zelf-leiderschap jezelf bewust blijft aansturen op zingeving. Op naar flow in dit nieuwe jaar!
Dr. Kiki de Jonge werkt als organisatiepsycholoog, coach en trainer. Daarnaast is zij als universitair docent tevens verbonden met de master Werk en Zingeving van de Rijksuniversiteit Groningen. Deze opleiding is nauw verweven met het onderzoek van het Centre for Religion Health and Wellbeing. Kiki is vanuit haar expertise op het gebied van organisatiepsychologie en (positieve) psychologie als onderzoeker geïnteresseerd in thema's rond creativiteit, flow, kernkwaliteiten en coaching.
Comments