Internationalization
The Faculty of Science and Engineering (FSE) is an international community for both students and staff. Practically all of our Bachelor's and Master's programmes are English-taught and our students and staff come from all over the world to study and work in Groningen. We have many international partnerships, exchange programmes and Summer Schools. And international cooperation and relations in the research fields of science and engineering goes without saying.
And nice to know: In Groningen, both at the university and in the city, practically everyone speaks good English.
English-taught Bachelor's and Master's programs
The Faculty of Science and Engineering offers 14 English-taught Bachelor's programmes and 25 English-taught Master's programmes. These degree programmes are offered entirely in English, thereby attracting both Dutch as well as a large number of international students.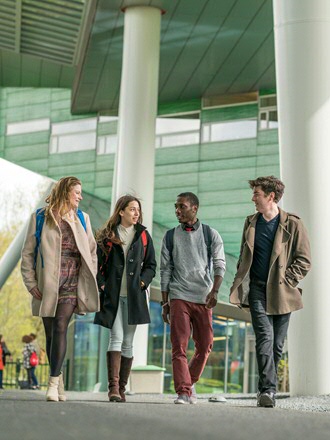 International staff and international students
Our Faculty has a large number of international staff and welcomes an increasing number of international students. Of the 1,400 academic staff members, 68% comes from abroad. Of the 7,100 students, approximately 30% are international students. Our students come from 100 countries.
International exchange partnerships
The University of Groningen has established exchange agreements with partner institutions all over the world. Examples include universities in Canada, Australia and Chile.
The Faculty itself also has many partners for student exchange programmes. Within Europe, for example, with universities in Austria, Finland, Italy, Spain, Sweden and the United Kingdom. Outside Europe, our students can study a semester at universities in Mexico, Japan, the United States, Indonesia and many other countries.
Undergraduate (Bachelor's) and graduate (Master's) students from partner universities can spend up to 10 months at the FSE as guest students, following courses and/or doing research projects of variable duration.
Double Doctorates
In our international Double Doctorate programmes, a PhD candidate conducts part of their research project in Groningen and part at another university abroad, with the aim of obtaining two PhD degrees. In such a framework, the PhD candidate has two supervisors - one at each university - who often have complementary expertise and work together in supervising the candidate.
Scholarships
If you would like to come and study at the FSE as an exchange student, or when you go abroad as an FSE student during your degree programme, there are various scholarships available. Our Faculty has three scholarships: Erasmus+ scholarship, International Credit Mobility and Marco Polo scholarship.
Study associations
The Faculty of Science and Engineering (FSE) has about ten study associations. These study associations are related degree programmes in certain field and welcome all FSE students, Dutch and international. All activities are in English, as is their communication.
In addition to our study associations there is ESN Groningen. This is a broad student organization which is part of the Erasmus Student Network (ESN).
International Classroom
The University provides its students with an international perspective by applying the International Classroom concept, a form of internationalization of the curriculum. For our University this means "inclusive, active learning through a common language in which all students and lecturers engage in purposeful interactions with diverse ideas and diverse people to develop and demonstrate internationalized learning outcomes aligned with the program vision on internationalization in order to enhance the quality of teaching and learning and employability for all students".
| | |
| --- | --- |
| Last modified: | 24 October 2023 10.35 a.m. |