The Ethos of Cinema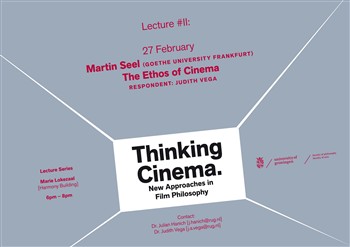 Lecture by Martin Seel (Goethe University Frankfurt). Respondent: Judith Vega
This is the second episode of the lecture series Thinking Cinema: New Approaches in Film Philosophy
Abstract
Cinema remains a relatively young art, even though the current question as to whether and what extent we are entering a post-cinematic era has sparked significant discussion over how cinema has aged. Along with photography and unlike other, much older art forms, the history of film has always been accompanied by a theoretical debate over its artistic potential. In the works of many theoreticians more or less explicit anthropological speculations have played a significant role, focussing on the relation between cinema and formerly dominant modes of perception and living.
Against this background, the lecture will address the position of film within the arts and thus also the position of this art form on the position of art with relation to the human condition. A main point will be that films are capable of bringing their audience into a specific state of being moved by what makes then move. They have the potential to articulate an ethos of passivity which neither the other arts nor philosophy can bring to the fore in the same way.
About
Martin Seel is professor of philosophy at Johann Wolfgang Goethe-University, Frankfurt/Main. Among his books are Ästhetik des Erscheinens, München 2000 (= Aesthetics of Appearing, Stanford UP 2004), Die Macht des Erscheinens. Texte zur Ästhetik, Frankfurt/M. 2007, and Die Künste des Kinos, Frankfurt/M. 2013.
| | |
| --- | --- |
| Last modified: | 06 June 2019 12.46 p.m. |