Gregory Currie: Macbeth / Spider Web Castle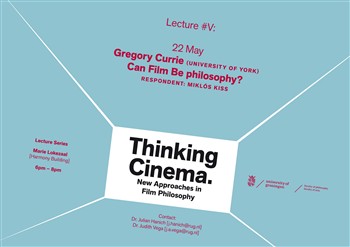 Lecture by Gregory Currie (University of York); Respondent: Miklós Kiss (University of Groningen)
Fifth lecture in the series Thinking Cinema: New Approaches in Film Philosophy
Abstract
A filmed version of a play is not just another instance of that work—another performance. It is in a sense a new art work, with distinctive features, for example a permanence that performances lack. Sometimes the relation between play and film gets much more complicated.
With Kurosawa's Spider Web Castle (commonly titled in English Throne of Blood) we have a quite different story, though one obviously based on Macbeth. Kurosawa's film, I will argue, constitutes a radical thematic departure from Shakespeare, an abandonment of the psychology of its source. This raises three problems. The first is the extent to which we are prone to import material and ideas from the source text into the new version; I suggest that our tendency to do this can make some of the artistic radicalism of Throne difficult to see. The second is whether Kurosawa's virtual abandonment of personal psychology can work as an artistic project in any way other than as a kind of occasional novelty. Would we want very much art to be of this kind? The third is whether film as a medium is especially suited to Kurosawa's project here. I argue that it is, and that it is the film's visual qualities which enable it to retain our interest despite the absence of character psychology.
About
Greg Currie is Professor of Philosophy at the University of York and currently Visiting Professor at the École des Hautes Études en Sciences Sociales, Paris. He is a Fellow of the Australian Academy of the Humanities and a Past Fellow of St John's College Oxford. His most recent book is Narratives and Narrators (Oxford University Press, 2010) and he is completing a book, This Unintelligible World, on literature and Knowledge, which will appear with Oxford soon (he hopes).
When & where?
Thursday 22 May, 6-8 PM
Faculty of Arts, Harmonie building, Oude Kijk in't Jatstraat 26, Marie Lokezaal
| | |
| --- | --- |
| Last modified: | 16 May 2014 11.58 a.m. |