Agenda
Manipulating Spiritual Matter. How Did Early Modern Science Become Experimental? By dr. Doina-Cristina Rusu (RUG).
Wanneer:

| | | | | | |
| --- | --- | --- | --- | --- | --- |
| di | 26-03-2019 | 15:30 - 17:00 | | | |
| do | 11-04-2019 | 15:30 - 17:00 | | | |

Waar:

-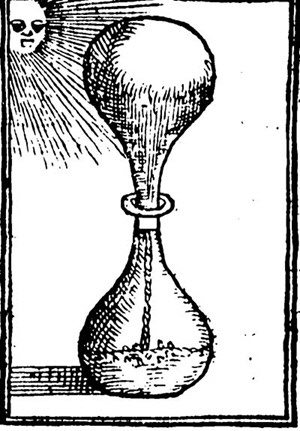 The event will be in English.
Walk-in from 15.30hrs (which gives time to check out the Beyond the Lab expo); Session starts at 16.00hrs and ends at approx. 17.00hrs.
Entry free after registration.
The emergence of experimental science in the early modern period did not take place in the universities or research institutes, but in individual ateliers and mere households – Do It Yourself Science!
Doina-Cristina Rusu is a postdoctoral researcher in the Faculty of Philosophy, where she runs a NWO-Veni project on the emergence of experimental science.
She will re-enact some ancient experiments where phenomena at hand were explained by the activity of spiritual matter. This will offer us an insight into the roots of the scientific culture. Moreover, the recreation of early modern experiments will bring knowledge about the relation between theory (in this case the spiritual matter) and experimentation in a period usually called the Scientific Revolution. The experiments will be shown on video (and for the non-dangerous experiments: live) and discussed with the audience.
Universities were focusing on theology, medicine and law, and natural philosophy was taught only in order to expose some theoretical principles. Moreover, institutes and academies were born only in the second half of the seventeenth century. Before that, artisans, practitioners and court philosophers dealt with explaining natural phenomena, producing objects and investigating nature in general. One particular class of phenomena dealt with action at a distance, such as magnetism or gravitation. Some philosophers explained these phenomena, and several others, in terms of invisible pneumatic matter (called spirits) traveling in between bodies. Distillations played a central role in advancing the theory of spirits: spirits were produced in the distillation apparatus, and then they were brought back to a liquid, but much stronger and with different qualities than the initial substance. In this way, spirits became crucial in the birth of modern experimental science and the switch to a corpuscularian matter theory.
The exhibition Beyond the Lab explores seven remarkable stories of 'do-it-yourself scientists' who are busy hacking, experimenting and inventing, taking it out of professional labs. Equipped with low-cost sensors, smartphone apps and the ability to share information with communities online, these DIY science pioneers are challenging our ideas of who a scientist is and what science will look like in the future. From people who build their own medical devices to manage their diabetes, to community groups measuring pollution.
PPE workshop: How moralization and polarization affect collective action
| | |
| --- | --- |
| Wanneer: | wo 27-03-2019 10:45 - 17:00 |
| Waar: | Het Kasteel (Melkweg 1, 9718 EP Groningen) |
Big societal problems present challenges for citizens, scientists, and politicians. We seem to have a duty to collectively mitigate climate change, fight poverty, and promote sustainable lifestyles. But too little is done. In a meeting of minds, philosophers and psychologists discuss obstacles such as moralization and increasing levels of social polarization. We aim to create new insights as to how to remove them and promote collective action. The panel discussion aims for junior and senior researchers to exchange and debate different disciplines' perspectives on moral mandates to act collectively regarding the big societal challenges.
Programme, registration and information Registration closes on Wednesday, March 20th!
Thomas Pölzler: Moral Progress, Knowledge, and Error
| | |
| --- | --- |
| Wanneer: | wo 03-04-2019 15:15 - 17:00 |
| Waar: | Room Omega |
Lecture by Thomas Pölzler (Graz), entitled:
Moral Progress, Knowledge, and Error: What are the Folk's Implicit Commitments about Moral Objectivity?
According to several philosophers, lay people are committed to the view that morality is objective (i.e., independent from what we ourselves or anybody else think about it). This commitment has been claimed to manifest itself in various ways. Among others, it has been suggested that lay people believe in moral progress, the possibility of moral knowledge, and the possibility of moral errors. Existing psychological research on folk metaethics has addressed both explicit folk commitments (e.g. Goodwin & Darley 2008, Beebe 2014; Pölzler & Wright forthcoming; Zijlstra in press) and alternative manifestations of implicit commitments (Zijlstra forthcoming). Yet, objectivists' hypothesis about moral progress, the possibility of moral knowledge, and the possibility of moral errors has so far not been tested. In a series of psychological studies my co-authors Lieuwe Zijlstra, Jacob Dijkstra and I currently attempt to fill this gap. My presentation will explain our studies' motivation, their methodology, their results, and their implications for the philosophical debate about moral objectivity.

There will be drinks and dinner afterwards (on your own expenses) and if you would like to go to dinner with Thomas after his talk, please contact Lieuwe (l.zijlstra@rug.nl).
Bart Geurts: Common ground and normativity
| | |
| --- | --- |
| Wanneer: | wo 10-04-2019 15:15 - 17:00 |
| Waar: | Room Omega |
Colloquium Lecture by Bart Geurts (Nijmegen), organized by the Department of Theoretical Philosophy
Following Clark, I use the term "common ground" to refer to a system of iterative structures that enable social interaction in general and communication in particular. The common ground includes mutual beliefs and commitments, joint intentions, and joint attention. Everything in common ground is essentially public, and I argue that it is essentially normative, too. Focusing on common ground structures defined in terms of belief, acceptance (Stalnaker), and commitment, I outline a general theory of commitment that unifies these structures.
Conference: Varieties of Unity in Early Modern Philosophy
| | |
| --- | --- |
| Vanaf: | vr 12-04-2019 |
| Tot en met: | za 13-04-2019 |
| Waar: | Glazen zaal, Van Swinderenhuys (12) and Omega, Faculty of Philosophy (13) |
Organizers: Marleen Rozemond (University of Toronto), Brian Embry (University of Groningen) Call for Abstracts (before 10 January 2019)
April 12
Location: Van Swinderen Huys, Oude Boteringestraat 19, Glazen zaal
9:00-9:30
Coffee and welcome
9:30-11:00
Calvin Normore (UCLA), "Making Something of It: Composition in Hobbes and the Nominalist Tradition"
11:00-11:15
Break
11:15-12:45
Brian Embry (Groningen), "Why Did Suárez Reject Plurality of Forms?"
12:45-2:15
Lunch
2:15-3:45
Shane Duarte (Notre Dame), "Suárez's Disputation on Transcendental Unity: Observations on the Text and its Translation"
3:45-4:00
Break
4:00-5:30
Jean-Pascal Anfray (École Normal Supérieure), "How Many Modes of Union? Suárez, Hurtado, and Arriaga"
6:30
Dinner
April 13
Location: Faculty of Philosophy, Oude Boteringestraat 52, Room Omega
9:00-9:30
Coffee
9:30-11:00
Helen Hattab (University of Houston), "Unity and Division: Early Modern Metaphysics and the Late Scholastic Legacy"
11:00-11:15
Break
11:15-12:45
Jonathan Shaheen (Ghent University), "Varieties of Unity in Cavendish's Metaphysics"
12:45-2:15
Lunch
2:15-3:45
Jeffrey McDonough and Alison Aitken (Harvard), "Somethings and Nothings: Leibniz and Śrīgupta on Being and Unity"
3:45-4:00
Break
4:00-5:30
Marleen Rozemond (Toronto), "Why Mills Can't Think: Leibniz on Perceptions as Internal Action"
6:30
Dinner
Lisa Herzog: The Limits of Transparency
| | |
| --- | --- |
| Wanneer: | wo 24-04-2019 15:15 - 17:00 |
| Waar: | Room Omega |
Lecture by Lisa Herzog, organized by the Centre for Philosophy, Politics and Economics
Full title: The limits of transparency: specialized knowledge, central banks and meaningful accountability
Robin Douglass: Mandeville on Pride, Hypocrisy and Sociability
| | |
| --- | --- |
| Wanneer: | wo 01-05-2019 15:15 - 17:00 |
| Waar: | Room Omega |
Colloquium lecture by Robin Douglass (King's College, London), organized by the Department of the History of Philosophy
Matthew Kieran
| | |
| --- | --- |
| Wanneer: | wo 22-05-2019 15:15 - 17:00 |
| Waar: | Room Omega |
Colloquium lecture by Matthew Kieran (Leeds), organized by the Department of Ethics, Social and Political Philosophy
Title & abstract TBA
Dutch Seminar in Early Modern Philosophy VI
| | |
| --- | --- |
| Vanaf: | wo 29-05-2019 |
| Tot en met: | do 30-05-2019 |
| Waar: | TBA |
The Dutch Seminar in Early Modern Philosophy brings together advanced students and established scholars to discuss the latest work in early modern philosophy, broadly conceived. Built on the success of the previous 2014–2017 editions, which gathered philosophers from all over the world, the Seminar offers workshop-style collaborations in order to stimulate scholarly exchange. The language of presentation and discussion is English.
This year's keynote speakers are: Professor Marleen Rozemond (University of Toronto) and Professor Katherine Brading (Duke University)
View Call for Papers, Procedure and Organization details