Pre-master programmes
Would you like to do a master but you don't meet the requirements for direct entry?
No need to worry. That is what our pre-Master programmes are for.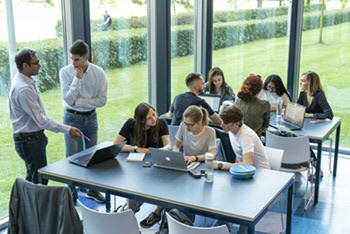 Pre-master programmes are designed to help you enter one of FEB's Master programmes when you have certain deficiencies in your academic background. Once you have successfully completed the pre-master, you can enroll in the corresponding Master's programme without any trouble.
Good to know before you start!
Find out more about the

difference between HBO and University

.

The

admissions requirements

for our pre-Master programmes have loosened. If you have a NVAO accredited HBO degree (240 EC) you can enter our pre-Master programmes. However, your pre-master year might be more demanding.

Of course this all depends on your motivation to succeed. You determine your own study success.
Go directly to..

.
---
Choose your programme
Most (HBO) students apply for Standard pre-Master programme. This programme is the main route to enter a majority of our Master programmes. The pre-master programmes start in September, consist of 60 EC and take one year.

Choose the pre-Master programme you want to apply for and follow the link below:
Standard pre-Master programmes
Non-standard pre-Master programme
Tailormade programmes

Business Administration

Change Management
Management Accounting and Control (new name of the current Organizational & Management Control)
Small Business & Entrepreneurship
Strategic Innovation Management
Health

Finance
Human Resource Management
International Business and Management
Economic Development and Globalization
International Financial Management
Marketing
Supply Chain Management
Technology and Operations Management
Structure of standard pre-Master
Each standard pre-Master programme is structured as described in the table below.
| Period | Course | EC |
| --- | --- | --- |
| 1.1 | Mathematics * | 5 |
| | Master specific courses | 10 |
| 1.2 | Business Research Methods * | 10 |
| | Master specific courses | 5 |
| 2.1 | Research paper | 5 |
| | Master specific courses | 10 |
| 2.2 | Research paper | 5 |
| | Master specific courses | 10 |
* The courses Mathematics and Business Research Methods are required to enter the Research Paper.

► Click to see specific programme content
Rules for the pre-Master

60 EC after one year
After one year, if you have passed all the courses of the pre-Master, you are automatically admitted to Master programme.
50 EC after one year
After one year, if you have completed at least 50 EC of the pre-Master - including the compulsory courses Mathematics and Business Research Methods - you cannot start the Master programme. However, you can get an extension for the pre-Master of maximum one year. In that year you have to complete the remaining EC's of the pre-Master programme, after which you are admitted to the Master programme.

Less than 50 EC
After one year, if you have not completed at least 50 EC of the pre-Master programme, you have failed the pre-Master programme. Admission to our pre-Master programme is valid for only one year and you can enter only once. You cannot continue in the pre-Master and you cannot proceed to the Master programme. If you wish, you can enter the regular Bachelor of Science programme (most of the times with exemptions).
---
Admissions requirements
If you have a Business or Economics related university (WO) degree, please check the Teaching and Examination Regulations whether or not you are directly admissible to a Master programme. After application in Studielink you will have to contact the Admissions Office . Your application will be assessed on an individual basis by our Admission Board.
Admissions information for Accountancy & Controlling are explained here.
Admissions information for all other programmes are explained here.
Additional requirements
A lot of students in the pre-Master have difficulties with the course in Mathematics. This means you need a sufficient level of mathematics before you start in the pre-Master. You can check your level of mathematics online (login: gaststudent; password: hbo).
Our pre-Master programmes are entirely in English. Your level of English must be sufficient to study successfully. We advise the following test results: IELTS 6,5; TOEFL 580/237/92; or Cambridge Proficiency or Cambridge Advanced.
---
Application (September intake only)
Prospective students with a Dutch bachelor degree
For your application in one of the Pre-MSc programmes at the Faculty of Economics and Business, you will have to take some administrative steps. In order to apply for the standard Pre-MSc programmes you need to register in Studielink. Please read the instructions for your registration in Studielink very carefully and follow the prescribed steps precisely.
For the non-standard and tailor made pre-master programmes, you need to register in Studielink and the Online Application System (OAS).
Applications must have been submitted in Studielink AND in our Online Application System (OAS) no later than 30 June. All applications submitted after 1 July will no longer be considered for admission to our pre-MSc programmes! Apply today! Do not wait until after your graduation!
Information on administrative steps
Please read more about tuition fees here.
Notes
For the assessment on your admissibility the University will use your uploaded documents however, these are only allowed for a conditional admissions assessment.
By Dutch law we are legally obliged to have a paper based certified copy of your bachelor degree and transcript (on which your admissions offer is based), available in your student file for a possible accountant's check. This is why you need to send these certified copies by regular mail/post in due time for your final registration in the programme.
A photocopy is considered to be officially certified if it's correspondence to the original is confirmed by one of the following authorities: your home university/school; an official authority responsible for certifications (e.g. the Dutch Embassy or Consulate in your country of domicile or a public notary office); the Admissions Office of the University of Groningen (bring the original documents and copies). If your transcripts are not in English or Dutch there would also need to be a translation (also certified) attached.
Prospective students with a non-Dutch degree

Only international applicants with a Dutch degree can enter the pre-Master programmes of the Faculty of Economics and Business. So you need a Dutch HBO or university degree. When you have a Dutch degree, you can continue to admissions.

For international applicants with a non Dutch degree it is not possible to apply for the pre-Master programmes directly. You should apply for a regular Master programme of the Faculty of Economics and Business. If your credentials are insufficient for direct admission into the MSc programme, the Admissions Office will assist you with your registration as an international Pre-MSc student. The application deadline is 1 May. You can read all about our regular Master programmes, tuition fees and information on how to apply for international students
Further information
| | |
| --- | --- |
| Last modified: | 14 June 2019 10.45 a.m. |